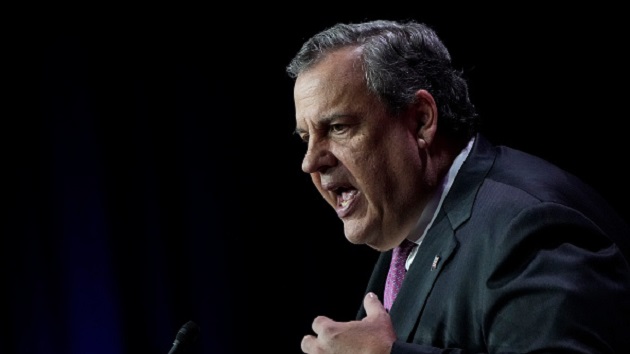 (WASHINGTON) — Former New Jersey Gov. Chris Christie, arguably the 2024 Republican presidential candidate most willing to attack Donald Trump, lambasted the former president over his conduct, drawing cheers and jeers from the crowd.
"He's unwilling to take responsibility for any of the mistakes that were made. Any of the faults that he has. And any of the things that he's done. And that is not leadership everybody that is a failure of leadership," Christie said to boos from attendees at the Faith & Freedom Coalition Conference in Washington, D.C., on Friday.
"You can boo all you want," Christie shot back. "But here's the thing: Our faith teaches us that people have to take responsibility for what they do. People have to stand up and take accountability for what they do," he said, garnering cheers from others in the audience.
The former two-term governor of New Jersey mentioned Trump by name only once in his nearly 30-minute-long remarks, but he focused heavily on faith and character as essential qualities of a successful leader.
"My Catholic faith teaches us that character doesn't mean you're perfect. It doesn't mean that you're free of sin or faults," Christie said. "But what I believe my faith requires of me is when I do sin, when I do make mistakes, when people who work for me do the same, that I must admit it, that I must take responsibility."
He continued: "Beware, everybody, of a leader who never makes mistakes. Beware of a leader who has no faults. Beware of a leader who says that when something goes wrong, it's everybody else's fault."
Gaggling with the press afterward, Christie said that he believed that "a lot of people of faith in that room" wanted to hear the truth from him.
"Look, guys, we can't pretend that Donald Trump is a man of character," he said. "This is a guy who paid off a porn star. This is a guy who has regularly lied. This is a guy who has abused people who've worked for him."
Christie, a former Trump ally, has hinged his campaign on going toe-to-toe with Trump, telling ABC News' George Stephanopoulos after announcing his candidacy that the only path he sees to the nomination is through the former president.
"There's only one lane to the Republican nomination for president, and Donald Trump is at the head of it, and you have to go right through him and make the case against him," Christie said.
Following his speech on Friday, Christie brushed off being booed during an interview on CNN.
"I'm not going to change my message depending on who I go in front of. That would be a lack of integrity, and I won't do that," Christie said.
"You know, the fact is that there are a lot of people in that audience who were standing and cheering when I left, and there were some that were booing," he said. "But no one left wondering what I think."
Trump was hit with a sweeping 37-count indictment from Special Counsel Jack Smith's office earlier this month, alleging that he willfully retained documents containing the nation's most sensitive secrets. Trump has repeatedly denied any wrongdoing and criticized the Department of Justice and the U.S. attorney general's office of conducting a political "witch hunt."
The former president was previously indicted by a Manhattan grand jury and charged with 34 felony counts of falsifying business records related to one of those 2016 hush money payments. Trump, who has denied all wrongdoing, entered a plea of not guilty to all 34 counts.
Trump holds a healthy lead over all rivals, including Christie, in the race for the Republican presidential nomination.
Copyright © 2023, ABC Audio. All rights reserved.