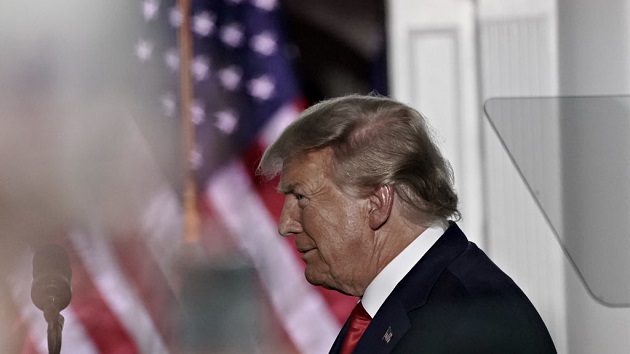 (WASHINGTON) — In a lengthy interview this week, Donald Trump was asked to address his past support for criminal justice reform and COVID-19 vaccine development and restrictions, two major areas where he has been criticized by other conservatives in the 2024 presidential race.
While defending his record to Fox News' Bret Baier, Trump also said he's considering skipping the first Republican primary debates because he's the early front-runner with voters, polls show.
Elsewhere in the interview, Baier pressed Trump about the events of Jan. 6 and whether Trump would pardon all of the rioters.
And when asked about his proposal to implement the death penalty for drug dealers, Trump wavered on how it would apply in specific cases, including for a woman whom he freed from prison while in the White House.
Trump's Fox News sit-down made headlines for his comments about his handling of classified documents while out of office. Below are highlights from what he said about his political platform and the 2024 race.
Trump: 'Not sure the country is ready' for death penalty proposal
A viral moment during Trump's Tuesday interview came after Baier asked why he supports the death penalty for drug dealers, a hard-line position among politicians.
"That's the only way you're going to stop it," he said, though he later expressed some hesitation about whether that view would be embraced.
"If you want to get rid of it — now, I don't know that this country is ready for it. I just don't know," he said. "You know, every time I say it, I sort of like — it's — it's not easy to say the death penalty."
Baier then cited Trump's support for the First Step Act, which was passed by lawmakers from both parties and which Trump signed into law in December 2018.
The act reduced mandatory sentencings in a variety of cases and increased job trainings for prisoners to curb recidivism, among other changes.
The law has been criticized by some other Republicans and Trump's focus on criminal justice reform while in the White House is in contrast to GOP arguments now that the country should adopt tougher-on-crime policies.
Trump said, though, that he is "focused on nonviolent crime" and he pointed to the case of Alice Johnson, whom he granted clemency and helped release early from a nonviolent drug sentence.
"But she'd be killed under your plan," Baier said. Trump appeared briefly caught off guard by that idea, saying "huh?" — but then said, "It would depend on the severity. It would depend on the severity. … It would start as of now. So you wouldn't go to the past."
He then argued that the death penalty for drug dealing, if enacted, would be a deterrent for people like Johnson: "She wouldn't have done it."
Trump defends his handling of COVID-19
Trump was asked if he had "regrets" over how he handled COVID-19, with Baier pointing to the economic cost associated as well as criticism from some other Republicans because Trump initially supported sweeping, if temporary, lockdown measures to curb infections and death in the early months of the pandemic.
Baier said "some of your opponents are now running these loops" of clips of then-President Trump defending the restrictions as "the right thing."
In response, Trump said he also gave power to states' governors to make their own decisions and he singled out Florida Gov. Ron DeSantis, his chief 2024 primary rival, whom he argued had "better PR" than other governors but did not handle the pandemic any better.
DeSantis has vocally campaigned against many COVID-19 restrictions, saying they're excessive.
"I told all governors, 'You do what you want,'" Trump said.
COVID-19 vaccines are another area where Trump has been at odds with Republicans, with some candidates previously saying they hadn't received shots and past polling — including a 2020 survey — showing a notable amount of vaccine hesitancy among Republican voters.
"In your mind, did the COVID vaccine work?" Baier asked Trump in the interview.
"It's such an interesting question," he said, before going on to tout his support for the development of treatments for COVID-19 beyond vaccines. He also said his approach to the virus saved numerous lives.
But he said he never talks about his leadership in making COVID-19 vaccinations widely available because "as a Republican, it's not a great thing to talk about."
"I really don't want to talk about it," he said, later adding, "People love the vaccines, and people hate the vaccines … I understand both sides of it, by the way. I understand both sides very well."
Trump then went on to criticize retired Dr. Anthony Fauci, who served as one of his top COVID-19 advisers (and later served under President Joe Biden). Trump also said he didn't support broad vaccine mandates, though he has encouraged people to get immunized.
Trump may not do primary debates, would get on stage with Biden
Trump reiterated that he was erring against participating in the initial Republican primary debates, which begin in August on Fox News.
He indicated it was because he remains so far ahead of the rest of the field.
"I like to debate. I probably am here because of debates. I don't mind it at all," he said. "But when you're 40 points up …. Why would I let these people take shots at me?"
However, he said he'd definitely face off with Biden.
"He and I have to definitely debate. That's what I love," Trump said.
Jan. 6 pardons if reelected?
On the topic of Jan. 6, which is being investigated by the Department of Justice, Trump was pressed on whether he's worried about what he did and didn't do that day and whether he'd pardon the rioters — including those charged with assaulting officers.
"We'd look at individual cases, but many of those people are very innocent people. They did nothing wrong," he said.
More than 1,000 people have been arrested in connection with Jan. 6, according to the federal government.
Copyright © 2023, ABC Audio. All rights reserved.