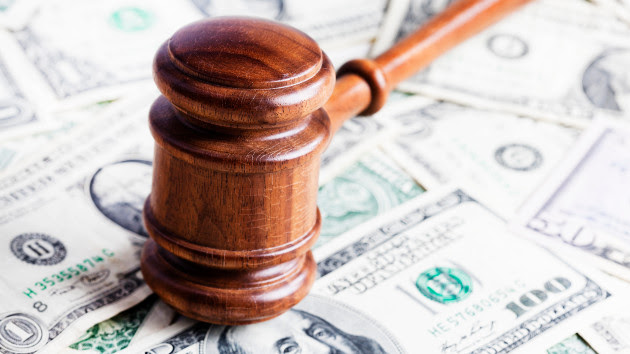 (NEW YORK) — Rep. George Santos' father and aunt guaranteed his $500,000 bond, according to a court document unsealed Thursday over the congressman's objection.
Santos, a first-term Republican congressman who represents parts of Queens and Nassau County in New York, posted the bond after pleading not guilty last month to a 13-count indictment accusing him of fraud, money laundering and theft of public funds.
His bond was guaranteed by Gercino Santos and Elma Santos Preven, who Santos told ABC News' Rachel Scott are his father and his aunt. ABC News has reached out to both for comment.
In May, the House Ethics Committee sent a letter to Santos requesting the names of his suretors so it could determine "whether you may have solicited or received an improper gift in connection with the bond sureties."
However his attorney previously expressed a preference for Santos to go to jail rather than release the names of the bail backers to the public, and argued harm could befall the suretors if their identities were revealed.
"Here in the instant case, the suretors are likely to suffer great distress, may lose their jobs, and god forbid suffer physical injury," defense Joseph Murray said in a court filing.
"I'm also concerned for the safety of the people whose names will be revealed who are family members, and I worry about their safety," Santos told ABC News a day before the names were released.
But federal Judge Joanna Seybert sided with a coalition of news organizations, including ABC News, who argued that the names should be made public.
This week, two House Democrats — Dan Goldman of Brooklyn and Greg Landsman of Cincinnati — asked the House Ethics Committee to disclose whether Santos had complied with the committee's request to reveal the suretors' names.
The Ethics Committee has been investigating Santos since March.
The embattled congressman faces five counts of wire fraud in what prosecutors allege was a fraudulent political contribution solicitation scheme, as well as two counts of unlawful monetary transactions for allegedly transferring donations he received for his political campaign to accounts he controlled before spending them on personal purchases; one count of theft of public money; two more counts of wire fraud for allegedly fraudulently applying for and receiving unemployment benefits during the COVID-19 pandemic; and two counts of making false statements to the U.S. House of Representatives in financial disclosure reports.
Santos, who has been accused of misrepresenting elements of his employment record, his education, and his family history, has admitted that he lied about portions of his background while running for Congress.
Copyright © 2023, ABC Audio. All rights reserved.