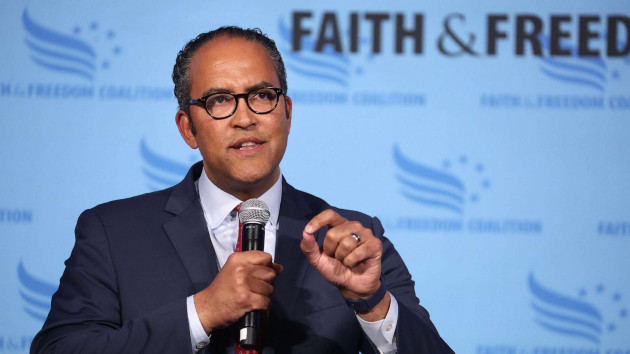 (WASHINGTON) — Former Texas Rep. Will Hurd is running for president, he said Thursday, joining a field of more than a dozen candidates who are vying for the Republican primary nomination.
"We live in complicated times and we need common sense," Hurd said on CBS Mornings, pointing to what he called "generational, defining challenges" such as China's rising global influence and the economic drag from inflation.
"To be frank, I'm pissed that we're not talking about these things. I'm pissed that our elected officials are telling us to hate our neighbors," he said.
"I believe the Republican Party can be the party that talks about the future, not the past. We should be putting out a vision of how do we have unprecedented peace, how do we have a thriving economy?" he continued.
"America is better together," he said, "and way more unites us than divides us."
Hurd acknowledged he was a "dark horse candidate" but said he wouldn't be "afraid of Donald Trump" in the primary race, unlike other candidates. What's more, he said, his past experience as a candidate shows he can connect with voters and expand the GOP's appeal.
Hurd, who was the only Black Republican in the House in his 2015-2021 tenure, will face competitors including former President Trump, the early front-runner, and Florida Gov. Ron DeSantis, along with former New Jersey Gov. Chris Christie, former Vice President Mike Pence, South Carolina Gov. Nikki Haley and South Carolina Sen. Tim Scott.
A moderate Republican and former CIA clandestine officer, Hurd is expected to join Christie and former Arkansas Gov. Asa Hutchinson in trying to carve out a path to success as a vocally anti-Trump GOP hopeful.
Hurd was one of the few intraparty critics of then-President Trump during his time in the House, when he represented more than a third of the U.S.-Mexico border as part of Texas's 23rd District. At the time, Hurd was particularly outspoken against a border wall.
After the Jan. 6 insurrection, Hurd tweeted that the U.S. Capitol riot should be considered a coup spearheaded by Trump, who denied wrongdoing.
Hurd has been similarly critical of Trump since leaving office, including reacting to the 37 federal charges Trump faces for his alleged mishandling of government secrets after leaving the White House. Trump has pleaded not guilty.
"We can have a conversation about whether or not the DOJ should be doing something or not be doing something. That's a valid conversation as a former CIA guy, right?" Hurd said on a recent CNN This Morning panel.
He continued: "Yes, you're innocent until proven guilty. … But let's be honest, if the GOP is supposed to be the party of law in order, then we need to be the party of law in order when it comes to our own folks."
Hurd said Thursday, when asked, that he would not promise to pardon Trump if he is elected and Trump is convicted. Some other GOP primary candidates have said they would promise pardons.
Hurd has been publicly flirting with the idea of jumping in the race for some time, with his first recorded trip to an early voting state in January, when he visited New Hampshire. He's since taken multiple trips there, along with a swing through Iowa.
"Ultimately here is what I think: Options are always good," Hurd said during a recent Fox News appearance. "I don't subscribe to this narrative that too many candidates in the race are going to ultimately help Donald Trump. The Republican Party is not the party of group-think."
He published a book, American Reboot — which details his vision for a sort of overhaul of American politics — in 2022. His policy platform focuses on technology, education and foreign policy.
Copyright © 2023, ABC Audio. All rights reserved.