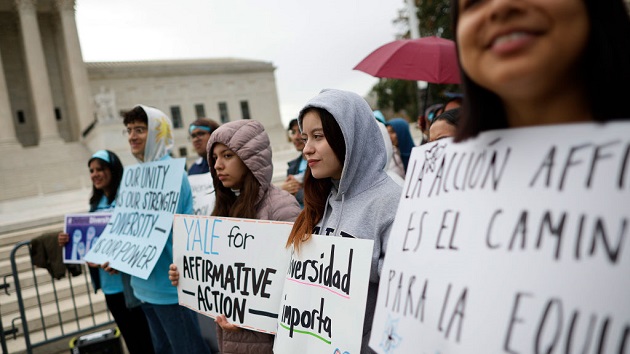 (WASHINGTON) — The U.S. Supreme Court is expected to issue a decision later this month on a case that would decide the future of race-based affirmative action in high education across the country.
The nation's highest court heard two major cases in October 2022 on affirmative action, one on race-conscious admissions policies at Harvard University, the nation's oldest private college, and one from the University of North Carolina, the nation's oldest public university.
The legal battle over factoring race into admissions in higher education has been ongoing for decades.
The Supreme Court could decide to overrule a 2003 ruling and more than 40 years of precedent upholding affirmative action in higher education, reshaping the college admissions process.
Colleges and universities often want prospective students to submit high school transcripts, standardized test scores, letters of recommendation, personal essays and a list of extracurricular activities when considering admissions, but can have their own application requirements in place.
"Every college and university can have their own application, meaning their own questions, data, fields, etcetera, and then their own process whereby they review application," Priscilla Rodriguez, the senior vice president of College Board, told ABC News. "So, it is race, ethnicity, that's also socioeconomic status."
Harvard, UNC and other schools have considered race as a factor in their admission processes, and that it's an indispensable tool for creating a diverse campus.
"It's diversity in every way possible that really does benefit students and create the rich learning environment that colleges really want to be," Rodriguez said.
Black, Native American, Hispanic and Asian American student enrollment has surged since 1976, according to Department of Education data. Despite the gains, however, students of color remain underrepresented on campuses nationwide.
"If the court rules that race must be taken out of the consideration process, I worry that it will remove a valuable way that students who come from underrepresented, or I'll call it, nontraditional backgrounds, are able to show or let colleges know that there's a history and a background that they bring to college that may be different than other students," Rodriguez said.
Copyright © 2023, ABC Audio. All rights reserved.