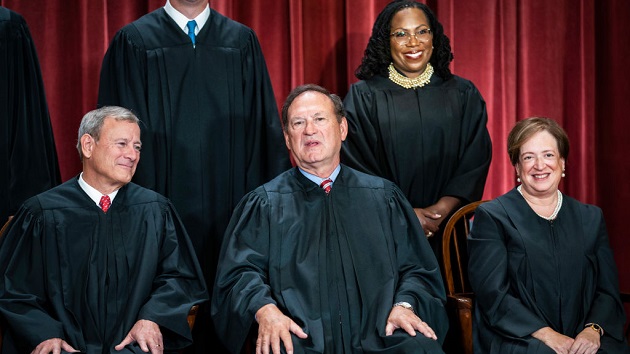 (WASHINGTON) — Justice Samuel Alito on Wednesday issued a public rebuttal to a new report detailing a luxury vacation he took with a wealthy hedge fund manager who later had business before the Supreme Court.
According to ProPublica, Alito accompanied billionaire Paul Singer on a fishing trip in 2008. Alito was flown there on a private jet provided by Singer, which the investigative outlet said would have cost more than $100,000 one-way.
The trip went undisclosed on his financial disclosures for 2008, the report said, and Singer's business later went before the court at least 10 times, including a 2014 case in which Alito sided with the majority in Singer's favor — raising ethical concerns, ProPublica said.
Justice Alito declined to answer questions posed by ProPublica, the outlet said, and instead tried to rebut the report in an editorial in the Wall Street Journal before it was published. The title of the opinion column reads, "Justice Samuel Alito: ProPublica Misleads Its Readers."
"ProPublica has leveled two charges against me: first, that I should have recused in matters in which an entity connected with Paul Singer was a party and, second, that I was obligated to list certain items as gifts on my 2008 Financial Disclose Report," Alito wrote in the editorial. "Neither charge is valid."
Alito asserted he was not aware of Singer's connection in the cases that went before the court, and that his conversations with Singer were limited and didn't include his business or that of the court.
On the issue of not disclosing the trip and travel on his annual form, Alito argued the justices "commonly interpreted" rules regarding hospitality "to mean that accommodations and transportation for social events were not reportable gifts."
When it came to the private jet travel, Alito said he accepted the offer because a seat would have otherwise gone vacant and had he taken a commercial flight it "would have imposed a substantial cost and inconvenience on the deputy U.S. Marshals" who would've been required to accompany him.
A spokesperson for Singer told ABC News in a statement that "Mr. Singer did not organize the trip in question or invite Justice Alito, nor was he aware that Justice Alito would be attending when he accepted the invitation."
"At the time of the trip, neither Mr. Singer nor any Elliott entities had any pending matters before the Supreme Court, nor could Mr. Singer have anticipated in 2008 that a subsequent matter would arise that would merit Supreme Court review," the statement continued. "Additionally, Mr. Singer has never discussed his business interests with Justice Alito."
ABC News has reached out to the Supreme Court and Justice Alito for any additional comment but has not gotten a response.
ProPublica has also reported on undisclosed trips taken by Justice Clarence Thomas and his wife, Ginni, courtesy of wealthy Republican donor Harlan Crow. It also reported Crow paid for school tuition for Thomas's grandnephew, who the justice was raising as a son.
Thomas, too, said he was advised personal hospitality from friends didn't have to be included on the forms.
Earlier this year, the Judicial Conference of the United States outlined stricter rules for reporting "personal hospitality" gifts, stating the exemption doesn't apply to non-commercial transportation and gifts extended at a commercial property.
The ProPublica reports on Justice Thomas sparked debate over Supreme Court ethics, and calls for the justices to adopt an enforceable code of conduct. But Congress is at an impasse when it comes to legislative remedies, and all nine justices have pushed back on calls for new guidelines.
Supreme Court justices recently released their financial disclosures for 2022, but those of Alito and Thomas were noticeably not available to view online.
Chief Justice John Roberts defended the court's integrity in remarks last month at the American Law Institute gala in Washington.
"I want to assure people that I am committed to making certain that we as a Court adhere to the highest standards of conduct," Roberts said.
ABC News' Devin Dwyer contributed to this report.
Copyright © 2023, ABC Audio. All rights reserved.