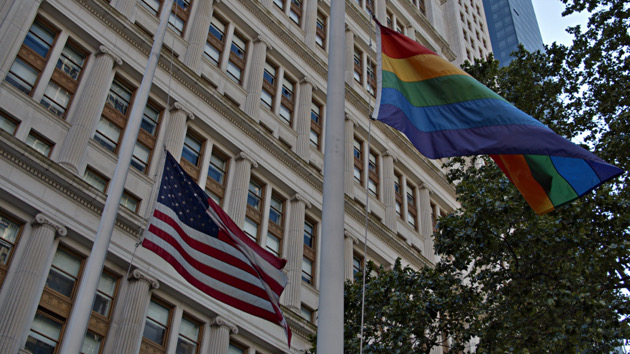 (WASHINGTON) — The Equality Act, which would protect LGBTQ+ people from discrimination, has been reintroduced by four Democratic legislators.
Several representatives – including Representatives Mark Takano and Hakeem Jeffries and Senators Jeff Merkley, Tammy Baldwin, and Cory Booker – are behind the bill, which comes amid a nationwide rise in anti-LGBTQ+ sentiment that has led to an increase in violence and threats against the queer community.
"When I was elected in 2012, I became the first openly gay person of color to serve in Congress," said Takano at a Wednesday press conference. "Now, we've come a long way since then, and the progress towards equality that we've made is the result of battles that have been fought for the civil rights of our community over the course of decades."
He continued, "Yet today, we face a wave of backlash in response to that progress."
The bill would expand federal civil rights law to prohibit discrimination based on sexual orientation and gender identity discrimination in areas such as public facilities, education, federal funding, employment, housing, credit, and the jury system.
Almost 500 anti-LGBTQ+ bills have been introduced so far this year, according to the American Civil Liberties Union. This includes restrictions on LGBTQ+ content in schools, gender-affirming care for transgender youth, and more.
"The purpose of these laws is to facilitate a rise in political extremism by alienating and isolating LGBTQ+ Americans, and the impact of these laws is alarming," said Kelley Robinson, the president of the Human Rights Campaign.
Robinson continued, "It has been nearly a decade since this bill was first introduced … It is time for Congress to catch up with our country and pass the Equality Act."
The HRC, one of the nation's largest LGBTQ+ civil rights organizations, declared a state of emergency for LGBTQ+ people in the United States earlier this month.
The organization cited the record-breaking wave of legislation targeting the LGBTQ+ community and an increasingly hostile environment.
The news follows warnings from the Department of Homeland Security about growing threats of violence and extremism against LGBTQ+ people.
"President Lyndon Johnson said that 'freedom is a right to share. fully and equally in American society,' 'the right to be treated in every part of our national life as a person equal in dignity and promise to all others,'" Merkley said at the press conference.
He continued, "We are here at this moment when that is not the case in America."
Copyright © 2023, ABC Audio. All rights reserved.