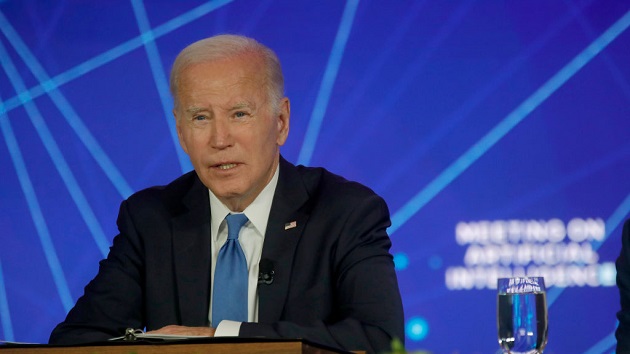 (WASHINGTON) — As Secretary of State Antony Blinken departed Beijing on Monday, he declared that his visit had successfully infused some stability into the often-turbulent relationship between the U.S. and China.
Less that 48 hours later, President Joe Biden himself posed the first real test of that assessment.
In front of a crowd of roughly 130 people during an off-camera fundraiser in Kentfield, California, on Tuesday, Biden seemingly likened Chinese President Xi Jinping to a "dictator" in remarks about the suspected Chinese surveillance balloon that flew over much of the U.S. mainland in early February before being downed by the military.
"The reason why Xi Jinping got very upset in terms of when I shot that balloon down with two box cars full of spy equipment is he didn't know it was there," Biden said. "That's a great embarrassment for dictators, when they didn't know what happened."
At the time, China insisted the balloon was merely a harmless, unmanned civilian vehicle.
Biden told the audience at the fundraiser that Xi "was very embarrassed" when the balloon was shot down off the coast of South Carolina, and that "he [Xi] denied it was even there."
China's Foreign Ministry quickly responded, calling Biden's comments "extremely ridiculous."
"It is extremely irresponsible for seriously violating basic facts, seriously violating diplomatic etiquette, and seriously infringing on China's political dignity, and is an open political provocation," spokesperson Mao Ning said. "The Chinese side is strongly dissatisfied with this and resolutely opposes it."
Despite the rebuke from China, State Department officials have publicly and privately expressed confidence that Blinken's work in Beijing will not be undone by the president's remarks.
"It should come as no surprise, of course, that we have differences and disagreements with [China], and the president believes that diplomacy, including this recent trip undertaken by the secretary, is a responsible way to manage tensions," State Department spokesperson Vedant Patel told reporters on Wednesday.
"That does not mean of course, we will not be blunt and forthright," Patel continued.
As of Wednesday afternoon, it did not appear that China had undertaken any actions to reprimand the U.S. over Biden's comments, such as summoning American diplomats to its Foreign Ministry.
Blinken was originally scheduled to depart for Beijing days after the balloon was first identified over the U.S. mainland early this year but postponed his visit at the last minute over the debacle.
After his rescheduled trip, Blinken said in an interview that the "chapter should be closed" on the balloon incident.
Patel on Wednesday denied that the president's comments about Xi ran counter to his top diplomat's assessment.
While the U.S. expects to move forward with other high-level engagement with China — with Blinken and other officials casting the dynamic as one of both cooperation and competition, but not conflict — it remains to be seen whether the president's jab at Xi will cast a shadow over any potential future meeting between the two leaders, who last met in November in Indonesia.
During a press availability earlier on Tuesday, Blinken extolled the leaders' history of working together despite their differences.
"The president and President Xi have known each other for quite some time," he said. "When they were both vice presidents, they spent time together both in China and the United States. So, there's a long relationship there."
The secretary also stressed the importance of dialogue.
"At the end of the day, I think the relationship and the communication between the two leaders — between President Biden and President XI — is most important of all," Blinken said.
"That's why they have had a number of communications meetings to date," he added. "And that's why I expect you'll see more of that in the time ahead."
ABC News' Karson Yiu contributed to this report.
Copyright © 2023, ABC Audio. All rights reserved.