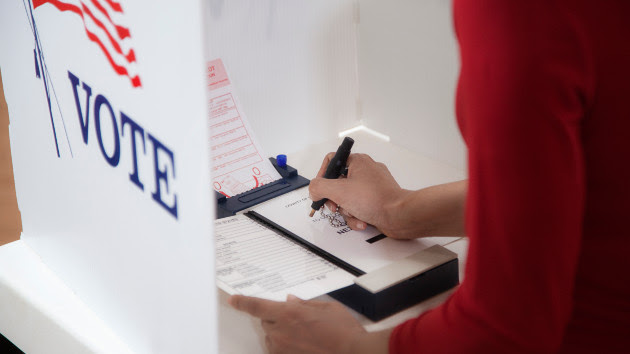 (WASHINGTON) — This year's legislative elections in Virginia could determine the fate of local abortion rulemaking and gun policy, control of two narrowly divided statehouses and Gov. Glenn Youngkin's legislative agenda.
Political observers say the results could also give some hint about the mood of voters as the 2024 election cycle gets underway.
The contests will begin to ramp up on Tuesday when Virginians will select candidates in primaries across the state heading into the general election in November. As the only major set of legislative elections in a purple state this year, the races are seen as something of a bellwether for the broader electorate, even as turnout is expected to be low because the contests don't overlap with higher-profile races like those for president or governor.
"We're looking for signals in a year that we don't have any," the University of Virginia's Center for Politics director, Larry Sabato, told ABC News.
"The elections are revealing because Virginia has a blue tinge to it, but it's not as blue as we thought it was," Sabato explained.
While Virginia has reliably voted Democratic in presidential races since 2008 — Joe Biden beat Donald Trump there by 10 points — its state and local elections are closer.
"Virginia could become competitive again," Sabato said.
Primaries playing out in divided government
Tuesday will see a total of 47 nominating contests: 31 of them Democratic and 16 for Republicans. GOP nominees have already been selected for an additional nine contests, which were conducted through party-run races over the past few weeks.
The vast majority of the state's legislative districts have a reliable partisan tilt. Only three of Virginia's 40 state Senate seats and eight of its 100 House of Delegates seats are considered competitive, according to the Virginia Public Access Project, a political data nonprofit.
At a time of divided government in Virginia, those few districts could be critical. In 2021, Republicans flipped control of the governorship and gained a 50-46 majority in the House of Delegates, while Democrats hold a two-seat majority in the state Senate.
Given this, experts say primary results will have influence over the chances of either party winning Virginia's Legislature, as particular primary candidates may fare better or worse in a competitive general election.
Most of the swing districts in the state are located on the fringes of the urban centers in Northern Virginia, Richmond or the Hampton Roads region — suburban areas that have proven decisive in recent elections.
Primary divides for both parties
On the Democrats' side, one major breaking point between primary candidates is their financial backing, according to Democratic strategist Benjamin Tribbett. Several primaries pit one candidate endorsed by Dominion Energy, Virginia's largest electric utility, against another endorsed by the advocacy group Clean Virginia, which donates to candidates who swear off campaign contributions from Dominion.
While energy is not a major issue on the ballot, the funding points to generational splintering within the party over Dominion's historically dominant presence in Richmond politics.
"The new candidates, the ones who are running for the first time, are more likely to side with Clean Virginia, and the Dominion candidates have been in the Legislature for a long time," Tribbett said.
The 2017 elections were a watershed moment for this issue, when 12 Clean Virginia-backed candidates won seats in Virginia's House of Delegates. Now, more than two-thirds of state House Democrats are in that group — compared to about half of state Senate Democrats. This year's record level of incumbent retirements, a result of Virginia's recent redistricting reform, could create new inroads in the usually incumbent-friendly chamber.
"That's really the question: whether that wave is now going to hit the Senate in 2023," Tribbett said.
Meanwhile, Republican candidates differ on their support for former President Trump. Results from the nominating contests so far have been trickling in over the past few weeks, as localities conduct conventions — that is, a cluster of hyperlocal contests which use weighted voting to pick the winner — or "firehouse primaries," all-day affairs that amount to massive winner-take-all competitions. There will be 16 more GOP primaries on Tuesday.
Early results from the previous nominating events have been mixed, as conventions have picked some Trump-aligned candidates and others have distanced themselves from their party's early presidential front-runner.
The primaries are also an indication of Youngkin's pull with voters, given how many endorsements he's made.
He has backed 10 candidates in contested races. Three of those have already emerged victorious in local conventions, none have lost and the remaining seven will go to primaries on Tuesday.
Overall, Tribbett said, "In the key districts, the governor has really cleared the field for most of the candidates he wants."
Specific races and candidates to watch
The race for the state Senate's 17th District will measure the strength of the governor's endorsement, as Youngkin-backed Del. Emily Brewer squares off against Hermie Sadler, a businessman and retired NASCAR driver.
In the Richmond suburbs, the Republican primary in the state Senate's 12th District pits Sen. Amanda Chase, a self-described "Trump in heels," against two more moderate conservatives: Glen Sturtevant, a former state senator, and business owner Tina Ramirez. Chase has butted heads with party leadership, receiving an official censure by the Virginia Senate when she praised those who participated in Jan. 6. The winner of the primary will face off against Democrat Clint Jenkins in a race that analysts estimate is narrowly right-leaning.
Finally, the primary in the Virginia Senate's 13th District will test Democrat' views on abortion, as incumbent Rep. Joe Morrisey, a self-described "pro-life" Democrat, squares off against progressive Lashrecse Aird, who supports more access to abortion than Morrisey does.
Morrisey's tenure in politics has survived multiple controversies, including a sex scandal and jail time. Now, he is crafting his pitch to voters around other issues, including his record on criminal justice reform and economic opportunity in his majority-minority district.
Virginia Republicans widely support legislation that would restrict access to abortion, making such a law likely if the party holds the state House and flips the state Senate.
Copyright © 2023, ABC Audio. All rights reserved.