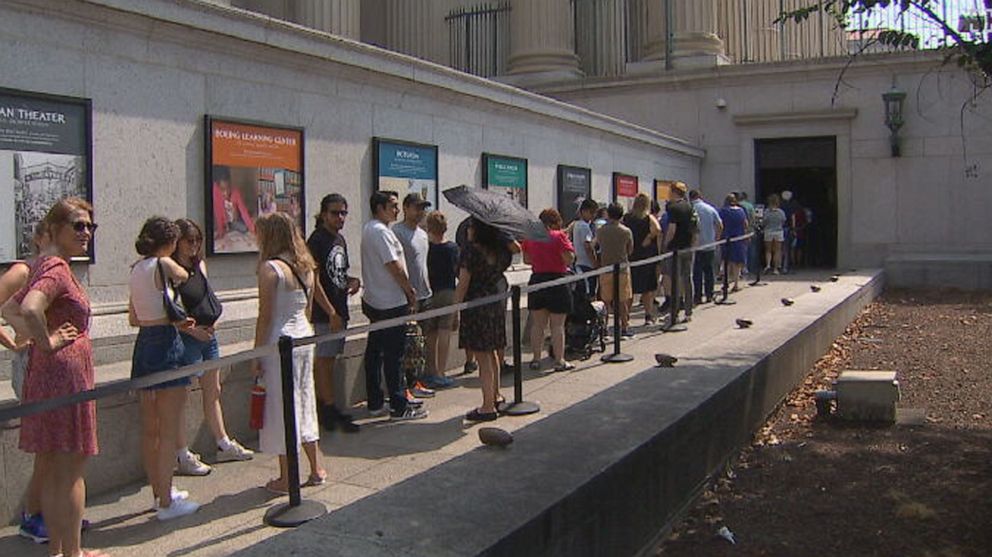 (WASHINGTON) — As the country commemorated Juneteenth, thousands of people lined up outside the National Archives in Washington on Monday to see rarely exhibited original versions of the Emancipation Proclamation and General Order No. 3.
The former is President Abraham Lincoln's order freeing America's slaves in 1863, amid the Civil War; the latter is from 1865 when a Union general informed Texas that slaves were now free — on the day that later became Juneteenth.
Both documents, while foundational to the United States and the end of slavery, are very fragile and normally kept in a secure climate-controlled vault with limited light exposure to ensure their preservation.
However, the National Archives intends to place the Emancipation Proclamation on permanent display, with select pages rotated to limit exposure.
"I am proud that the National Archives will enshrine this seminal document for public display adjacent to our nation's founding documents," the nation's archivist, Colleen Shogan, said in a statement on Saturday announcing the planned permanent display alongside the Declaration of Independence, the Constitution and the Bill of Rights.
Visitors to the National Archives on Monday told ABC News that viewing the documents was impactful and an important way for everyone to recognize history, including the next generation. Juneteenth was designated by President Joe Biden as a federal holiday in 2021.
Ashley Witfield brought her mother and three sons to the archives.
"It's really important to me that my children know the history of the country and that they understand that our ancestors really were an integral part to building it," Witfield said. "One thing that my son did say is, 'You're going to see the paper of justice,' and I thought that that really sums it up well. So it was really special to be able to share that with them."
Washington resident Shawna brought her young son, John, for the first time and said she hoped Juneteenth does not become synonymous merely with a day off of work — but rather "to actually understand the purpose of it and why is it important to us."
Another pair of visitors, Priscilla and Warren, said that Monday's celebration was a long time coming and that the holiday needed more promotion.
"When you hear Fourth of July, you think of fireworks sales, holiday, people cooking out. Here's June the 19th, and you have to advertise it," Warren said.
"It should be celebrated by all, not just people of color, not just by Black people," Priscilla said, "because otherwise, we're going to continue to be a nation that's fractured."
For Virginia resident Ashley, seeing the documents up close with her husband and daughter was a transporting experience.
"It makes it less of a story and more of a real," she said. "These are real lives and real people that were directly impacted by that signature."
Copyright © 2023, ABC Audio. All rights reserved.