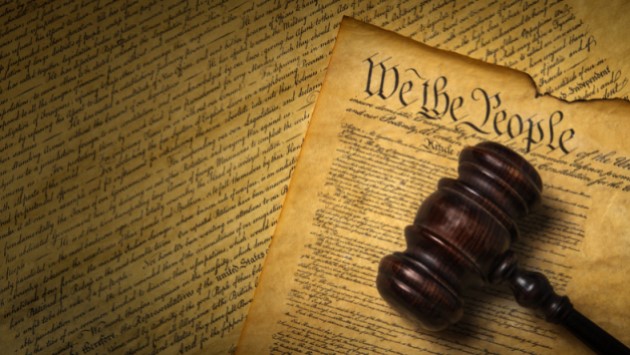 (NEW YORK) — An "Abolition Amendment" was introduced in Congress last week that would eliminate the so-called slavery loophole in the U.S. Constitution.
Ratified in 1865, the 13th Amendment abolished slavery and involuntary servitude in the United States, "except as punishment for crime." That exception is what three Democratic members of Congress – Rep. Nikema Williams of Georgia, Sen. Cory Booker of New Jersey, and Sen. Jeff Merkley of Oregon – are seeking to eliminate with their new amendment.
In a statement to ABC News, Booker said, the exception "has allowed our government to exploit individuals who are incarcerated and to profit from their forced labor."
The United States incarcerates more of its population than any other country, including a disproportionate number of Black Americans.
Rep. Nikema Williams spoke to ABC News' Kanya Whitworth about the amendment proposed ahead of Juneteenth, which marks the day when the last enslaved African Americans learned they were free.
KANYA WHITWORTH: Before we get into some of the specifics of the abolition amendment, could you reflect on today's federal holiday, Juneteenth? An important moment that we recognize as a nation?
NIKEMA WILLIAMS: I mean, a very important moment. I was just looking at – one of the things that is good about social media is you get memories from the years in the past. And I served in the state Senate before I was in Congress, and I saw where I filed legislation in Georgia to make Juneteenth a state holiday to replace our Confederate memorial holiday.
And I couldn't even get a hearing for my bill. And now here we are, three short years later, and it's a federal holiday. So, this is a day that we should all celebrate, the progress of Black Americans, formerly enslaved people in this country, and one step closer to recognizing the full history of our country and the struggles that formerly enslaved people went through, including my ancestors. And so today is a day of celebration, but still so much more work to be done.
WHITWORTH: And commemoration, of course. And you've teamed up with New Jersey Sen. Cory Booker and Oregon Sen. Jeff Merkley to try to change the language of the Constitution, specifically removing what has been called the slavery loophole from the 13th Amendment. What exactly is the language you want to change there?
WILLIAMS: That's exactly right. So as we're commemorating Juneteenth, when every enslaved person learned that they were actually free in this country after slavery had already been abolished, one thing that most Americans probably don't even know is that we still have an exception clause in the U.S. Constitution and the 13th Amendment that allows slavery for punishment for a crime.
So the 13th Amendment states that slavery is abolished, except for punishment for a crime. And so, Sen. Cory Booker and Sen. Jeff Merkley and I are working to change the U.S. Constitution once and for all.
This is bicameral legislation. It is bipartisan legislation. And we're going to keep doing the work to make sure that once and for all, we remove slavery from our U.S. Constitution.
WHITWORTH: And we know the U.S. incarcerates more of its population than any other country and that includes a disproportionate number of Black Americans. Practically speaking, how would this amendment help address mass incarceration?
WILLIAMS: So right now, we have nearly 2 million incarcerated people in this country who are subject to forced labor, to slavery, and it is legalized based on our U.S. Constitution. We saw seven states who have already ratified their state constitutions to get rid of this, including states that don't have a lot in common.
If you're looking at it from a political sense, like Alabama and Colorado, Nebraska and Oregon, Tennessee, Utah and Vermont, these are states that have already ratified their constitution to make sure that that we can change the slavery loophole in the [U.S.] Constitution. So what is happening right now is we can have forced labor legally for punishment for a crime.
Right now, we have to make, we have to get this through Congress. We need two-thirds of a vote in both chambers. So we have a lot of work ahead of us. But the more we tell the story, the more we educate people, the more – regardless of where you stand on the political spectrum, which part of the country you're from – the more people are coming on board to say that we need to end the exception once and for all for slavery.
WHITWORTH: Congresswoman, you were elected to fill the Georgia seat left by the late congressman and civil rights icon, John Lewis. Can you talk to us about how you try to keep the legacy of "good trouble" alive?
WILLIAMS: So, Congressman Lewis taught us that we have an obligation, a moral obligation to find a way to get in the way. And each day, when I step into the halls of the U.S. Congress, when I walk through a Capitol that was built by enslaved people, I know that I have a legacy to uphold. I know that the people of Georgia's 5th District, we call ourselves "The Fighting Fifth" down here in Georgia.
We have work to do to make sure that everyone has not only free and fair access to the ballot, but equality and justice for everyone in this country. And I have this constant reminder. I was able to know Congressman Lewis personally.
My husband worked for him for many years. And so I have the blueprint, and it's up to me to continue to do the work. Each generation has to pick up the baton and take us one step closer to full equality for everyone in this country. Congressman Lewis paved the way, and it's my turn to do my part of the job.
WHITWORTH: And you clearly are energized to do that. Our thanks to you, Congresswoman Williams.
WILLIAMS: Thank you.
Copyright © 2023, ABC Audio. All rights reserved.