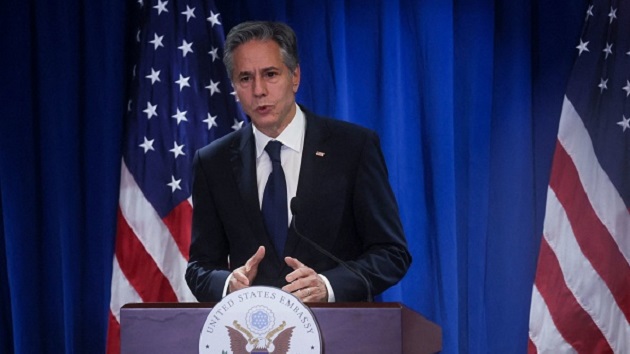 (WASHINGTON) — As he prepared to leave Beijing Monday, Secretary of State Antony Blinken declared that he had accomplished one of his most critical goals for the high-stakes trip: strengthening communication between the U.S. and China.
But whether his visit will have a lasting impact on the relationship will depend on what happens in the weeks ahead.
"I stressed that direct engagement and sustained communication and senior levels is the best way to responsibly manage our differences and ensure the competition does not veer into conflict," Blinken said of his discussions during a news conference, capping off the first visit to China by a Cabinet official since 2019.
"And I heard the same from my Chinese counterparts," Blinken continued. "We both agree on the need to stabilize our relationship."
Despite this point of agreement, Blinken acknowledged that, despite raising the issue multiple times during his visit, he was not able to make significant progress on revitalizing perhaps the most important channel between countries: military-to-military communication.
"I think it's absolutely vital that we have these kinds of communications," Blinken said. "That imperative, I think, was only underscored by recent incidents that we saw in the air and on the seas. And at this moment, China has not agreed to move forward with that."
The close calls Blinken alluded to include a Chinese warship coming within 150 yards of U.S. destroyer earlier this month and a Chinese fighter jet intercepting an American surveillance plane in international airspace in May.
Both incidents were decried by the Pentagon as unnecessarily dangerous, but China says the U.S. is at fault for conducting military operations in the region.
As Beijing has carried out what the State Department has described as increasingly provocative actions in the region, it has also sharply limited direct contact with the U.S. military — even shutting down a request from Defense Secretary Lloyd Austin to meet with his Chinese counterpart in May.
"It's an escalation management risk," said Rear Adm. (Ret.) Mark Montgomery, a senior director at the Foundation for Defense of Democracies.
"We need to have all the tools at our disposal for deescalating an accidental incident, and we are missing one of the biggest tools right now without military-to-military communications," he continued.
The secretary's most important engagement during his trip — a sit-down with President Xi Jinping — came together during the final hours of his visit.
Negotiations over the meeting with Xi continued well after Blinken touched down in China and was firmed up only once the Chinese government determined that the secretary's other talks had gone well enough to merit face time with the leader, according to sources.
"It's certainly better that it happened. It would have been quite a dampener to the relations had Xi declined to visit with Blinken," said Montgomery.
"I'm not sure that it achieves anything of its own, but it's a signal of Chinese cooperation that that we certainly hadn't seen in the last six months," he added.
Blinken predicted that additional dialogue would take place in the aftermath of his visit to Beijing.
"I would expect additional visits by US officials to China over the coming weeks, and we welcome further visits by Chinese officials to the United States," Blinken said.
American officials likely to visit China in the coming weeks might include Treasury Secretary Janet Yellen and Special Presidential Envoy for Climate John Kerry. On the Chinese side, Blinken extended an invitation to Foreign Minister Qin Gang to visit Washington at a time both countries deem suitable.
Most telling of all will be if President Biden and Xi come together in the months ahead. The two last met on the sidelines of the G20 summit in Bali, Indonesia, last November, and officials from both countries have speculated that they could sit down again in November in San Francisco when the U.S. hosts the Asia-Pacific Economic Cooperation CEO Summit.
"I think this Xi/Blinken meeting does make a meeting with the president more likely. I'm not sure it necessarily means that there'll be a meeting between the two leaders that has a successful outcome," said Montgomery.
"That's still predicating on China acting differently and us not valuing engagement for engagement's sake," he said.
Copyright © 2023, ABC Audio. All rights reserved.