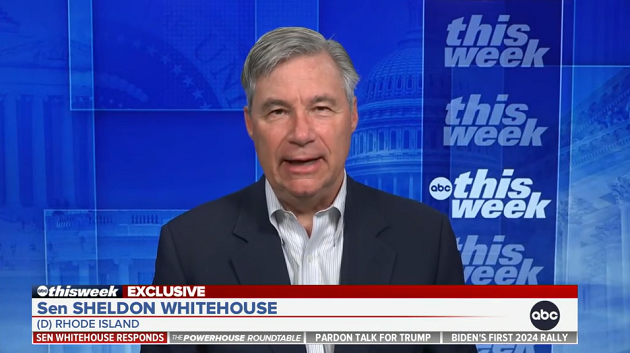 (WASHINGTON) — It remains to be seen whether the judge assigned to Donald Trump's federal case, who was appointed by him three years ago, can act independently in light of her past rulings related to the former president, Sen. Sheldon Whitehouse said Sunday on ABC's "This Week."
Whitehouse, D-R.I., likened U.S. District Judge Aileen Cannon to a "Trump advocate in a robe" but said she may correct herself going forward given that her biggest ruling to-date in Trump's federal case was summarily rejected by an appellate panel.
"As we all know, her first intervention in the case was very badly smacked down by the 11th Circuit, a conservative circuit, that not only overruled her but schooled her. And as a new judge, I'm not sure how often you want to do that," Whitehouse told "This Week" co-anchor Jonathan Karl.
He was referring to Cannon initially approving the appointment of a third party to review documents seized from Trump's home during the federal investigation, which halted part of the case.
"We will find out whether she goes back to regular normal judging or continues to be a Trump advocate in a robe," Whitehouse said.
"I suspect there's a pretty good chance that she will just decide this is a good time in her career for her to act like a real judge and she'll take the correction of the 11th Circuit and act accordingly," he said.
Cannon was named to the federal bench by then-President Trump in 2020. She has been randomly selected to oversee Trump's prosecution in federal court in Florida, where he is charged with illegally holding onto government secrets. He has pleaded not guilty.
Whitehouse said on "This Week" that "there's going to be a lot of proceedings beforehand for special counsel Jack Smith to test [Cannon's] behavior, to see how she's conducting herself and have time to move for her recusal if she's not providing proper rulings."
Trump is the current front-runner for the 2024 Republican presidential nomination, according to early polling, and has argued he is being unfairly targeted by law enforcement in the Biden administration's Department of Justice — something Smith has pushed back on.
Whitehouse echoed that, saying there are "at least two firewalls" between President Joe Biden and the case: Biden doesn't discuss criminal matters with Attorney General Merrick Garland, and Garland named Smith as an independent prosecutor to look into Trump.
Karl noted that Trump has made his charges "the centerpiece of his campaign" while Biden has largely avoided discussing it.
"I don't think that works well for Trump, to tell you the truth," Whitehouse said. "He goes into this sort of bullying, bombastic mode where he tries to make the other side as miserable as possible and hopes that they'll go away or settle on good terms," the senator continued. "When you're dealing with a federal prosecutor, that stuff just doesn't work. It doesn't matter. It's just background noise."
Whitehouse defended Biden "steering well clear of" Trump's case and his decision to slowly ramp up his 2024 campaign.
The president held his first campaign rally in Philadelphia on Saturday, 54 days after announcing his bid for reelection.
"He's got a lot of time ahead of him, a lot of runway," Whitehouse said, adding, "I don't know that people are interested in a whole lot of campaign noise out of him, and I think he's doing it right."
Karl pointed to a comment from the senator last week regarding Biden's age, when Whitehouse said, "I think everybody would certainly like a younger Joe Biden." At 80, Biden is already the oldest-ever president. (Trump is 77.)
But in responding to concerns about his age — which voters have repeatedly worried about in polls — Biden can tout his experience, wisdom and record, Whitehouse said: "He can [address] that by continuing to talk about his successes."
"He's got a really good story to tell about the end of COVID, the reduction of inflation, the explosion in infrastructure jobs and manufacturing," he said of Biden, "and I think that's going to be a really solid baseline for him."
Karl also asked about Whitehouse's relationship with Robert F. Kennedy Jr., who has mounted a long shot bid to challenge Biden for the Democratic presidential nomination. Whitehouse and Kennedy attended law school together, with Kennedy supporting Whitehouse's campaigns and even joining him on the trail.
When asked if the two are still in touch, Whitehouse said "not so much, particularly since this political episode has begun," and he pledged his full support to Biden.
He said he disagrees with Kennedy's criticisms of vaccines and America's response to Russia's invasion of Ukraine.
"I think Joe Biden has those issues and others right," he said.
Copyright © 2023, ABC Audio. All rights reserved.