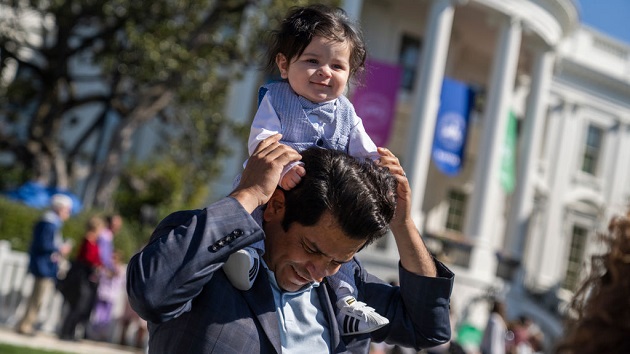 (WASHINGTON) — At 10 months old, Hodge Gomez has already roamed the halls of Congress, meeting with politicians and presidents.
He even went viral — watching all 15 rounds of Kevin McCarthy's historically messy fight for the speakership from the arms of his dad, California Rep. Jimmy Gomez.
"He's a famous little baby," Gomez recently told ABC News, joking, "I'm just riding his coattails."
Hodges' charm, and Gomez's new fatherhood, led him this year to help create the Congressional Dads Caucus, a group of 28 lawmakers, all Democrats, focusing on what they call the big picture parenting issues, like expanding the child tax credit and paid family leave.
"Now I get other issues in a more visceral sense. Like child care. It's expensive," Gomez said.
"You can see it on paper," he said, "but when you're going through it, you're experiencing what other parents experience."
Since the spread of COVID-19 in 2020, dads across the country say they have started taking a larger role in parenting.
But according to Pew Research data, while fathers have increased their child care workload over the years, moms still report taking on the most responsibility.
The dads caucus is well aware of that.
"These should not be issues that only moms are worried about or fighting for," said Rep. Dan Goldman of New York, who co-founded the caucus with Gomez and New Jersey Rep. Andy Kim.
"The burden still disproportionately falls on mothers. And part of what we're trying to do is uplift the responsibility that dads have for families," Goldman said.
While they work, members of Congress are often stuck on Capitol Hill, away from their kids sometimes nearly half of the year.
"Their assumption is that I'm not going to be there in some way. … And what pains me about this is like the only reason I'm here is because I'm a dad," Kim said.
But for advice on how to balance it all, look no further than Majority Whip Tom Emmer of Minnesota, the No. 3-ranking Republican in the House. Emmer and his wife raised six boys and one girl.
"Kids come first no matter what. I've actually had this conversation with members already: Your family comes first," he told ABC News.
A hockey dad and coach-turned-congressman, Emmer has carried lessons from the rink to Washington.
"All the personalities are different. People have up days and down days. My wife has always said when we had everybody at home — she called it organized chaos," he said.
Gomez and his wife, Mary, say they wouldn't trade Hodge's papoose or the Capitol diaper changes for the world.
For them, Hodge — with his wide-eyes always looking toward the future — is a symbol of what they're fighting for.
"He's part of a story, he's part of a family, and that's what I want him to know," Gomez said. "Not just that his dad was a member of Congress, but what his grandparents sacrificed, what their parents sacrificed, and understand what his role is in the bigger story of America but also of his own family."
Copyright © 2023, ABC Audio. All rights reserved.