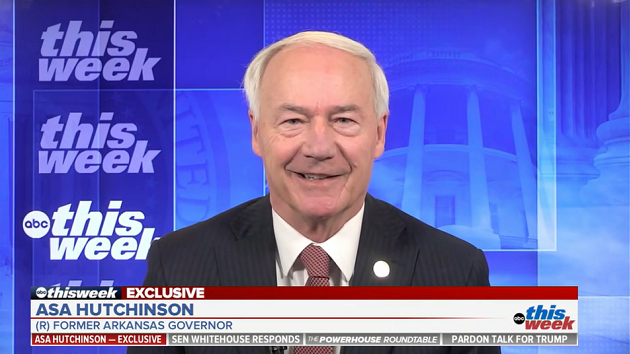 (WASHINGTON) — Former Arkansas Gov. Asa Hutchinson said Sunday that he expects 2024 presidential opponent Donald Trump may try to pardon himself in the event he is convicted of criminal charges but also reelected.
"I could certainly see Donald Trump doing that. That's exactly what he would intend if he got elected president. And if [his case] was not brought to trial before then, he's likely to issue that as well," Hutchinson said in an interview with ABC "This Week" co-anchor Jonathan Karl.
"From a legal standpoint, a constitutional standpoint, that is a question that the courts would have to resolve," Hutchinson told Karl. "I'm doubtful of it. I don't think that's what the Constitution intends in giving the president the pardon power. But most importantly, it would be inappropriate, unseemly."
The former president has been indicted in two cases and pleaded not guilty in each. He is charged by federal prosecutors for allegedly illegally withholding government secrets after leaving the White House and, separately, he is charged in New York City related to hush money paid to an adult film actress before the 2016 election.
A potential presidential pardon would only apply to the federal case.
Hutchinson has criticized others in the Republican primary field for promising to pardon Trump before his trial, saying the conversation alone undermines the American justice system. Hutchinson reiterated that view on "This Week," citing conservatives who claim Trump is being targeted by law enforcement.
"In terms of the overall charge, 'weaponization of the Justice Department' — look at Donald Trump. He's already declared that if he's elected president, he's going to appoint a special prosecutor to go after the Biden family. That's called a weaponization of the Justice Department," Hutchinson said. "And so let's back off of these accusations."
Former Pres. Trump's defense team might try to push the trial back until after the election, Asa Hutchinson tells @JonKarl.

"But that really invokes the political timeframe into the judge setting the calendar. And that should not be a consideration." https://t.co/re0py9LGb0 pic.twitter.com/klEAvUBupH

— This Week (@ThisWeekABC) June 18, 2023
Hutchinson, a former federal prosecutor, said Trump's looming prosecution will have a major political dimension as it unfolds during the 2024 election.
The timeline for Trump's federal trial could stretch past Election Day, he noted, forcing voters to decide where they stand before Trump has been judged by a jury. (His New York trial is currently scheduled to begin in March 2024.)
"I would estimate a year [to get to trial] under the normal circumstances. But it all depends upon how much the judge is going to hold the counsel's feet to the fire and say this is important in the public interest that this is handled in an appropriate way and not dragged out," Hutchinson said.
Drawing earlier in the interview on his past experience as prosecutor, Hutchinson stressed the seriousness of the indictment to Karl while acknowledging Trump should have the chance to make his case in court.
Trump faces 37 federal charges, including 31 counts under the Espionage Act for how he allegedly handled national defense information.
"I've tried scores of federal criminal trials and taken them to a jury, and the cases don't get any more serious than what's been outlined by [prosecutor] Jack Smith because you're talking about the allegations of not handling our nation's top secrets in accordance with law. You're talking about obstruction of justice," Hutchinson said.
Still, he continued, "You're going to hear another side whenever the defense presents their case."
Trump told supporters in a speech earlier this month that he "did everything right" and "I had every right to have these documents," an argument which has been disputed by outside legal experts.
Hutchinson has been one of few in the GOP field to take issue with the Republican National Committee requiring all candidates in their debates to take a pledge to support the eventual nominee, arguing he won't agree to support a potential convicted felon.
The committee last week rejected his request to change the pledge, but Hutchinson told Karl that he still intends to make the debate stage starting in August. He is currently polling in the back of the pack of candidates.
He suggested on Sunday that Trump critics like him who sign the pledge will do so with a caveat in mind.
"You have to make the pledge based on the fact that Donald Trump is not going to be our nominee and you're confident of it," he said.
"It's not a pleasant way to start off the debate," he said. "The RNC — I have great respect for that institution — I've served on it. They're trying to hold the party together. But we need to concentrate on supporting the principles of the party, which is the rule of law, support of law enforcement and law and order versus simply trying to circle the wagons around Donald Trump."
He also reaffirmed his call for Trump to drop out of the race while acknowledging that "clearly he's not going to."
"It's not fair to the country," he said, "and certainly it's not fair to the party that wants to get this country back on track."
Copyright © 2023, ABC Audio. All rights reserved.