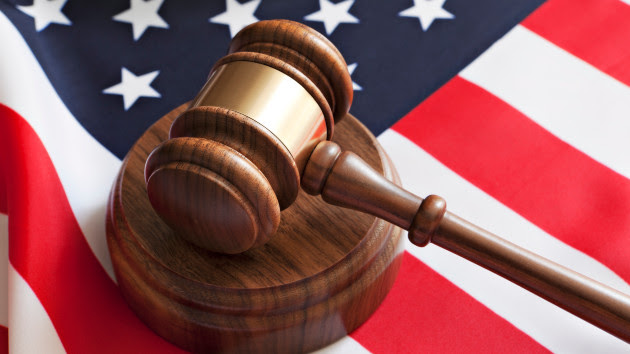 (NEW YORK) — Former President Donald Trump tried again in a new court filing to get his criminal prosecution in New York moved to federal court, arguing the alleged crimes "took place while the president was in office."
Trump's attorneys accused the Manhattan district attorney's office, known by the acronym DANY, of "deceptively mischaracterizing and ignoring the applicable facts and body of law" by seeking to keep the case in state court.
"According to DANY, the crux of its case was a purportedly 'illegal scheme that was largely perpetrated before defendant became [P]resident.' Such an alleged scheme, albeit nonexistent, could only violate federal, not state, campaign finance laws, as made clear by both the federal jurisprudence and the New York State election board,'" the defense filing said.
Trump and the prosecutors have filed dueling motions over the appropriate place to put the former president on trial for allegedly falsifying business records connected to the 2016 hush payment to porn actress Stormy Daniels. Trump has pleaded not guilty to 34 felony counts.
Trump has argued he was an officer of the United States when he was president and his case is best handled by federal court. There may be a more practical reason: If Trump's bid for the White House in 2024 is successful he could, in theory, take steps to make a federal prosecution go away.
Manhattan District Attorney Alvin Bragg has argued Trump's alleged criminal conduct regarding his business records had nothing to do with his job as president. Instead, Bragg's team has argued payments to Trump's then-fixer Michael Cohen, who had written the $130,000 check to Daniels, were solely reimbursements for campaign contributions, and therefore not acts done under the color of federal law.
Trump plans to argue the business records were truthful because the money paid to Cohen was, in part, "retainer," so Cohen could handle Trump's personal affairs while he was president.
"The question answers itself—clearly these actions were 'connected or associated' with President Trump's official duties of ensuring that there was no doubt that he was complying with the Constitution of the United States of America, including the Foreign Emoluments Clause and the Take Care Clause," the filing said.
U.S. District Judge Alvin Hellerstein has scheduled oral argument at the end of the month.
Copyright © 2023, ABC Audio. All rights reserved.