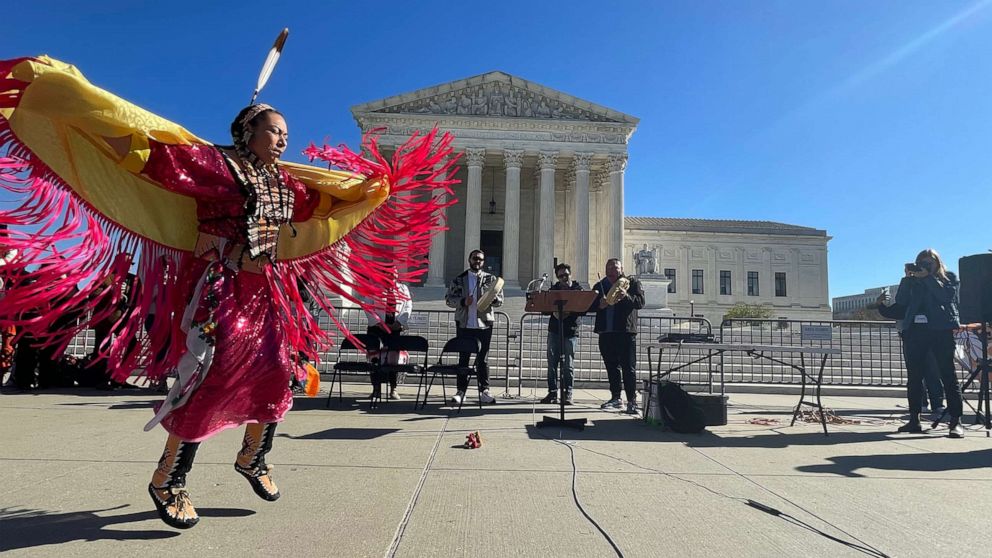 (WASHINGTON) — The Supreme Court on Thursday rejected a major challenge to the Indian Child Welfare Act of 1978, upholding a landmark law long hailed by tribes for giving priority to Native American families in the adoption of Native children.
The state of Texas and a group of non-Native foster parents had challenged the preferences as an infringement on state authority in child welfare policy and unlawful discrimination on the basis of race.
Justice Amy Coney Barrett, writing for the majority in the 7-2 decision, rejected the claims.
"Congress's power to legislate with respect to Indians is well established and broad," wrote Barrett. "When Congress enacts a valid statute pursuant to its Article I powers, state law is naturally preempted … End of story."
Barrett said the court was not deciding, however, whether the law violates the Equal Protection clause of the 14th Amendment by disfavoring non-Native families because none of the parties in the case was directly injured by that part of the law.
"We do not reach the merits of these claims because no party before the court has standing to raise them," wrote Barrett.
The conclusion leaves the door open to a potential future challenge to the law as discriminatory. "The equal protection issue is serious," wrote Justice Brett Kavanaugh in a concurring opinion that agreed with Barrett's overall judgment but also raised concern.
"A child in foster care or adoption proceedings may in some cases be denied a particular placement because of the child's race," he wrote, "even if the placement is otherwise determined to be in the child's best interest."
Justices Clarence Thomas and Samuel Alito dissented in the case. Both argued that Congress did not have the power to displace state authority to manage child placement decisions.
"The Federal Government thus lacks a general police power to regulate state family law," Thomas wrote.
The law, known as ICWA, was passed with overwhelming bipartisan support in response to generations of government-sponsored separation of hundreds of thousands of Native children from their families through the 1960s.
Native tribes have long called it the "gold standard" in adoption, requiring state courts to give first preference to a Native child's immediate family, then another member of the child's tribe, then a member of an unrelated tribe, before consideration of parents who are non-native.
Tribal leaders have said the law is critical to keeping their cultures alive and protecting their sovereignty as independent nations.
"Today's decision is a major victory for Native tribes, children, and the future of our culture and heritage," said Cherokee Nation Principal Chief Chuck Hoskin, Jr., Morongo Band of Mission Indians Chairman Charles Martin, Oneida Nation Chairman Tehassi Hill and Quinault Indian Nation President Guy Capoeman in a statement on the ruling.
"It is also a broad affirmation of the rule of law, and of the basic constitutional principles surrounding relationships between Congress and tribal nations," the leaders said.
A representative for Chad and Jennifer Brackeen, the Texas parents who brought a case against ICWA and are trying to adopt a Native American girl they have been fostering, told ABC News the couple is "crushed" by the court's decision.
Ms. Brackeen, an anesthesiologist, and her husband, a civil engineer turned stay-at-home dad, are parents to two biological children and two Native American siblings — a 7-year-old boy and 4-year-old girl — whom they've fostered for years.
While they have successfully adopted their 7-year-old son, his sister's fate has not yet been decided.
Both adoptions, the Brackeens say, have been hindered by ICWA.
By giving adoption priority to American Indian families over white families, they argued, the law discriminates on the basis of race.
"Cultural considerations are a challenge for every adoptive family, no matter what race they are or what race their children are," said Jennifer Brackeen in an interview last year.
"For [our son] to just get taken away and moved to someone he's never met before, who is not related — to me, it didn't seem like the right thing to do as his mom," she said of the boy, who is part Navajo. The couple won custody in 2018 after a two-year legal battle when the Navajo Nation backed down.
The nation's 574 federally recognized tribes, backed by years of Supreme Court decisions, argued that tribes are political entities and that ICWA's preferences are not about race, much in the same way the U.S. government sets objective requirements for citizenship.
"The Court has always held that Indian law is not race-based," said Cherokee Nation Deputy Attorney General Chrissi Ross Nimmo in an interview law year.
Native children are four times more likely than white children to be placed in foster care in this country, according to the National Indian Child Welfare Association.
More than a decade ago, 27% of Native foster children were placed with other family members; today, it's up to 38%, according to the 2020 Adoption and Foster Care Analysis and Reporting System. Experts attribute the improvement to ICWA.
In a statement, President Biden celebrated the high court's decision in the case, Haaland v. Brackeen, saying it "keeps in place a vital protection for tribal sovereignty and Native children."
"The touchstone law respects tribal sovereignty and protects Native children by helping Native families stay together and, whenever possible, keeping children with their extended families or community who already know them, love them, and can help them understand who they are as Native people and citizens of their Tribal Nations," Biden said.
Copyright © 2023, ABC Audio. All rights reserved.