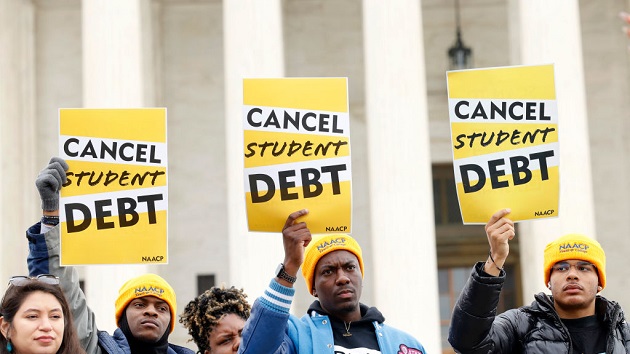 (WASHINGTON) — While the Supreme Court weighs whether to allow President Joe Biden to cancel hundreds of millions of dollars in federal student loan debt, the U.S. Department of Education has announced a broad timeline for when all borrowers should expect to restart their payments after a three-year pause for COVID-19.
People with federal student loan debt should expect interest to kick back in on Sept. 1 and payments to resume starting in October, a spokesperson from the Department of Education told ABC News.
That means that while interest will begin accumulating on Sept. 1, payments won't be due right away, instead ramping up through the following weeks. Exactly when payments are due for borrowers could depend on how individual loan servicers handle the restart.
The Department of Education is expected to issue more concrete timing guidance in the next few months, and a spokesperson said officials are committed to making sure students are well aware of their payment deadlines.
Still, advocates for student debt relief say they're concerned by the lack of information released so far and would like to see more specific dates for when payments must begin again, including whether different servicers will be on different timelines.
Spreading the world early and often will be particularly important for people who've moved addresses over the last few years or don't have reliable internet access — borrowers who could also be more at risk of defaulting on their loans, said Aissa Canchola Bañez, a senior adviser at the Student Borrower Protection Center.
"I think there are lots of questions we have that the [Department of Education] really needs to put out guidance to their servicers on, like a firm timeline and what to expect so that borrowers can can plan accordingly," Canchola Bañez said.
"If servicers have the chance to do whatever they want, that's going to be even more confusing for, let's say, a borrower who has multiple services or a married couple with two different servicers," she said.
The Biden administration previously said the pause on student loan payments would lift either after the Supreme Court issued a ruling on the current legal battle, brought by the state of Missouri and others, or about two months after June 30. The latest dates from the Department of Education slightly revises that schedule.
The Supreme Court's ruling is expected any day now; oral arguments were heard in February.
If the decision goes in Biden's favor, Americans with federal student loans who make below a certain income will have between $10,000 and $20,000 of their debts canceled before payments restart. If the Supreme Court rules against Biden's plan, Americans will restart payments for the first time since 2020 without any such changes.
"We recognize that the return to repayment would result in significant financial hardship for many borrowers. That is why this Administration also put forward a plan to provide up to $20,000 in debt relief for hard-working Americans recovering from the economic harms of the pandemic, most of whom make less than $75,000 a year, and why we continue to fight for that relief on behalf of the millions of borrowers who need it," a Department of Education spokesperson said.
"We will also be in direct touch with borrowers and ramping up our communications with servicers well before repayment resumes to ensure borrowers and their families are receiving accurate and timely information about the return to repayment," the spokesperson said.
Critics of Biden's student loan cancellation plan have countered that it is beyond his authority as president and unfair to other borrowers who paid off their own loans. Some of the Supreme Court justices have likewise taken a skeptical view of forgiving the debt.
"In effect, this is a grant of $400 billion," conservative Justice Clarence Thomas posited during February's arguments, citing one estimate on the potential cost of the plan. "And it runs headlong into Congress' appropriations authority."
In the meantime, the Department of Education is also implementing a new income-driven repayment plan that would allow some Americans to pay lower monthly payments and have their debt forgiven after a certain amount of payments, a plan that administration officials have described as "the first true student loan safety net in this country."
It's unclear when the new payment plan will be available to borrowers, though it was announced in January.
The department also says it's engaging borrowers with a high risk of delinquency, as well as taking steps to combat scammers and fraudsters who might pray on the confusion on payments restarting.
Copyright © 2023, ABC Audio. All rights reserved.