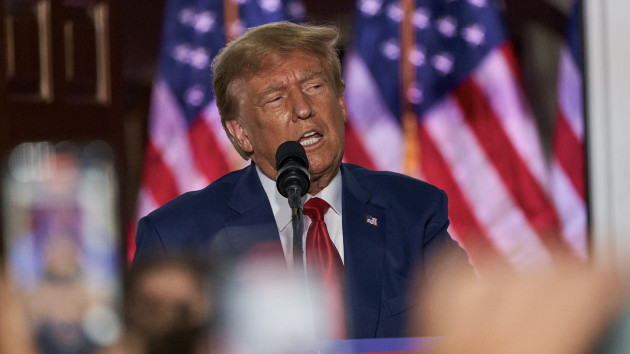 (WASHINGTON) — Two long shot Republican candidates in the 2024 presidential race have gone further than others in the party in defending former President Donald Trump from his unprecedented federal indictment.
Vivek Ramaswamy and Perry Johnson, both entrepreneurs and both polling in the back of the pack of GOP candidates, have promised to pardon Trump if they are elected president — a pledge that hasn't been taken up by most of the rest of the field. South Carolina Gov. Nikki Haley has indicated support for a potential presidential pardon but hasn't been definitive.
Former Arkansas Gov. Asa Hutchinson on Sunday called such promises "wrong" and "offensive," comments he echoed on "ABC News Live Prime" on Tuesday.
Trump, who was arraigned in Florida on Tuesday afternoon, is charged with 37 counts including willful retention of national defense information and conspiracy to obstruct justice.
Prosecutors allege he illegally retained government secrets after he left the White House and worked to avoid returning them when asked.
Trump has denied wrongdoing and his attorney entered a not guilty plea on his behalf.
On social media, he called his indictment last week a "DARK DAY" for the country.
Ramaswamy appeared outside the federal courthouse in Miami on Tuesday where Trump made his court appearance. There Ramaswamy said that he had sent letters to every other 2024 Republican candidate, seeking to have them also promise to pardon Trump.
Below is a look at where various Republican candidates stand on the issue, though many haven't yet publicly addressed it.
Presidents can only pardon people convicted of federal crimes, not state crimes. Trump separately faces felony state charges in New York City related to hush money he paid to an adult film actress before the 2016 election. He has pleaded not guilty.
Ramaswamy and Johnson offer pardons if elected
Ramaswamy, a biotech company founder, initially made his promise of a presidential pardon for Trump before the indictment had been publicly released. On Sunday on CNN, when pressed on whether his view had changed after the indictment was revealed, Ramaswamy said it hadn't, claiming that the allegations were "deeply politicized" and included "omissions" that he didn't specify.
"I'm even more convinced that a pardon is the right answer here," he said.
Prosecutors have defended their work: "This indictment was voted by a grand jury of citizens in the Southern District of Florida, and I invite everyone to read it in full to understand the scope and the gravity of the crimes charged," special counsel Jack Smith, who is overseeing the federal case against Trump, said on Friday.
At his press conference on Tuesday, Ramaswamy said other White House hopefuls had to take a public stand as well.
"I challenge every one of the other candidates to actually act on their convictions," he said. "If you're not going to … pardon President Trump on Jan. 20, 2025, you deserve to say why."
Johnson has repeatedly called for Trump to be pardoned, even before Trump faced federal charges. Johnson argued on social media that President Joe Biden should issue such a pardon and said that, if elected, he would issue a pardon for Trump himself.
"We must turn the page of American history and focus on important issues like ending this debt crisis, finally building the wall, and resolving the war in Ukraine," Johnson wrote on Twitter last week.
In a radio interview on Tuesday, Haley said she was leaning toward supporting a Trump pardon if she is elected, but she said it was too early to say.
"I would be inclined in favor of a pardon. But I think it's really premature at this point when he's not even been convicted of anything," Haley said.
Hutchinson criticizes it as 'simply wrong'
The former governor, appearing on CNN's State of the Union on Sunday after Ramaswamy, slammed offers of a presidential pardon for Trump.
"It is simply wrong for a candidate to use the pardon power of the United States of the president in order to curry votes and in order to get an applause line," he said. "That really undermines the rule of law in our country that I have served my lifetime supporting, and it is offensive to me that anyone would be holding out a pardon under these circumstances."
Hutchinson vehemently agreed on Sunday that Trump carries the presumption of innocence and has a right to make his case, but he called the indictment a "distraction" from the campaign — and has repeatedly called on Trump to end his bid "for the good of the country," while acknowledging he won't.
Republican candidate Steve Laffey has joined with Hutchinson on the issue of a prospective pardon, telling ABC News on Friday, "Enough is enough."
"It's time for him [Trump] to leave the stage. And if guilty, he goes to jail for quite a period of time," Laffey said.
Other candidates not weighing in as definitively
Some of the biggest names in the Republican primary race, like Florida Gov. Ron DeSantis and former Vice President Mike Pence, aren't making similar pardon offers — though they haven't publicly ruled them out either.
"I'm not going to speak to hypotheticals," Pence told reporters on Friday in New Hampshire, also calling it "premature" for Trump to drop out. "Everyone is innocent until proven guilty in America, and I think the former president has a right to make his defense. And we'll respect that right."
DeSantis has criticized what he called the "weaponization" of the federal government, in bringing charges against Trump. But his campaign did not respond to a question from ABC News about whether he would promise a pardon if elected, or not.
In May, he was specifically asked on a radio show about potentially issuing a pardon for Trump or people charged in connection with Jan. 6. The governor did not mention either Trump or any specific Jan. 6 cases by name but indicated he was open to the idea.
"We will be aggressive [in] issuing pardons," he said then, arguing that the Department of Justice and FBI had been turned to pursue political rather than law enforcement goals.
Former New Jersey Gov. Chris Christie, a Trump ally-turned-critic, was asked about potentially pardoning Trump during the town hall-style event where he announced his White House bid last week.
"I can't completely answer that until I know what he was charged with and convicted of," Christie said, later adding, "But I will tell you as a [former] prosecutor, if I believe someone has gotten a full and fair trial, in front of a jury of their peers — and especially someone in public life — who committed those crimes when they held a public trust, I can't imagine pardoning them."
What about Biden?
On the other side of the aisle, White House press secretary Karine Jean-Pierre was asked at Tuesday's briefing if President Joe Biden would consider a pardon for Trump. She said she wouldn't discuss the issue.
Copyright © 2023, ABC Audio. All rights reserved.