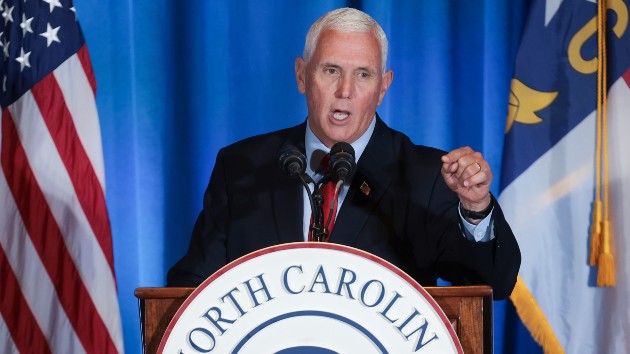 (WASHINGTON) — Former Vice President Mike Pence said Wednesday he "cannot defend what is alleged" in the most recent indictment against former President Donald Trump, a seemingly tougher stance than he had previously taken regarding the Justice Department's decision to charge his former running mate.
Still, Pence, who said he read the 49-page document over the weekend, reiterated his accusation that the Justice Department deployed a "two-tiered system of justice" against Trump and said he would hold off on giving his final judgment until the former president has had his day in court.
"This indictment contains serious charges, and I cannot defend what is alleged," he told CNBC's Squawk Box on Wednesday, personalizing the issue both with his family's military service and his own experiences with security clearance. "The very prospect that what is alleged here took place — creating an opportunity where highly sensitive classified material could have fallen into the wrong hands, even inadvertently — that jeopardizes our national security [and] puts at risk the men and women of our Armed Forces."
"I can't defend what is alleged, but the former president has a right to his day in court," Pence repeated. "I just can't — I can't believe that politics didn't play some role here."
The comments mirrored those the former vice president gave to the Wall Street Journal's editorial board on Tuesday afternoon, just after Trump pleaded not guilty in a Miami federal court house to 37 counts brought by Special Counsel Jack Smith related to his handling of classified materials.
"As the father and father-in-law of two men that currently serve in the Armed Forces of the United States, I will never diminish concerns over the handling of classified materials," Pence said. "The documents that were alleged to be in the president's possession — describing defense capabilities of our country, potential vulnerabilities of the United States and our allies — if these materials had ever inadvertently made their way in the hands of foreign interests, it would jeopardize the security of our country as well as the safety and security of our Armed Forces."
"President Trump is entitled to his day in court, and I'm going to listen with great interest to his defense and will render any judgment about this matter after the president has had the opportunity to make his case," he continued. "But I will tell you … I've lived through years of politicization at the Department of Justice, and I share the concern of millions of Americans about the way politics has played a hand."
"I want to emphasize that when we look at an indictment, it's only one side of the story," Pence added Tuesday. Trump has denied all allegations of wrongdoing.
He said the indictment "argues for a fresh start in this country" and vowed in both interviews to "clean house" at the Department of Justice and FBI if elected president.
"One of the first things we're going to do is clean house at the highest level of the Department of Justice and bring in men and women who are above reproach, who are respected on both sides of the aisle," he told CNBC. "We've got to have respect for the rule of law in this country and for all those that enforce the laws."
Asked then how he's able to "square" his line that "no one's above the law" with his echoing of Trump's efforts to undermine the Justice Department, Pence said, "I don't think there's any circle to square."
"I think two things are true today: Number one is no one's above the law. This indictment includes serious charges. I can't defend what's alleged there. The handling of classified materials is vitally important to the country," he said. "But look, we've gone through about — trying to do the math here — about out seven years where the American people have lost confidence in our Department of Justice."
Asked on Friday while campaigning at MaryAnn's Diner New Hampshire, as the indictment was unsealed, whether Trump should drop out of the race like some competitors say, Pence called that "premature."
"I think the former president has a right to make his defense. And we'll respect that right," he said.
He also said at that time, before having had a chance to review the indictment, that he'd hoped the Department of Justice "would see its way clear to resolve these issues with the former president without moving forward with charges."
"I would hope that the Department of Justice, however the case against the former president proceeds, will proceed on the inquiry of President Biden and also his family with equal vigor," Pence said, referring to the ongoing investigation into Biden's potential mishandling of classified documents.
Pence, who was cleared of all charged in his own classified materials case, testified earlier this year before a different federal grand jury investigating his former running mate on efforts to overturn the 2020 election.
The indictment against Trump came just days after Pence launched his campaign for the Republican nomination for president. Trump holds a comfortable lead in the race for the nomination, and he even gained some ground in the primary in an ABC News poll conducted after Trump's first indictment in New York. Trump pleaded not guilty to the felony charges he faced in New York City.
Copyright © 2023, ABC Audio. All rights reserved.