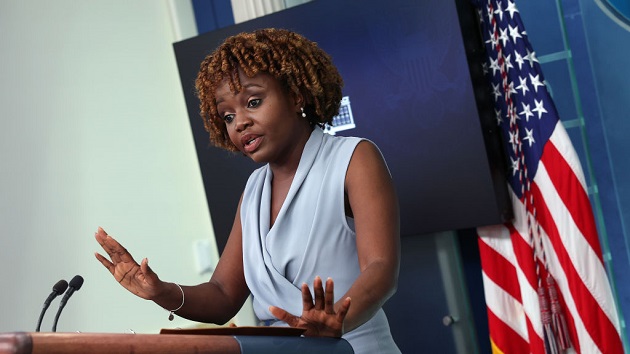 (WASHINGTON) — The White House is responding after several transgender guests exposed their chests at the administration's Pride celebration this past weekend.
The incident drew backlash as inappropriate, including from conservative commentators like CJ Pearson who suggested online that it brought "shame" on the country.
On Tuesday, White House press secretary Karine Jean-Pierre told reporters, "The behavior was simply unacceptable. We've been very clear about that."
"It was unfair to the hundreds of attendees who were there to celebrate their families," she continued. "So, you know, we're going to continue to be clear on that. … It's not appropriate. It's disrespectful. And let's not — it really does not reflect the event that we hosted to celebrate the LGBTQ+ families."
The individuals in the video won't be invited to future events, Jean-Pierre said.
"This has not occurred before," she said. "This was not a normal thing that has happened under this administration. But we've been very clear about how we saw this particular behavior."
The Bidens welcomed hundreds of LGBTQ families from across the country on Saturday to mark Pride month. The administration described the event as the largest-ever Pride celebration at the White House.
Rose Montoya, a transgender model and activist, posted a one-minute video to TikTok showing different aspects of the event. At one point, Montoya can be seen meeting President Joe Biden and first lady Jill Biden.
At another point, the video shows Montoya and other individuals bearing their chests while posing in front of the White House South Portico. Montoya is seen covering her bare chest with her hands.
"Are we topless at the White House?" someone can be heard saying in the video. It's not clear who the other individuals are in the video.
Montoya responded to criticism to the toplessness in a separate TikTok post on Monday.
"My trans masculine friends were showing off their top surgery scars and living in joy, and I wanted to join them," she said in the video. "And because it is perfectly within the law in Washington D.C., I decided to join them and cover my nipples just to play it safe."
Montoya didn't immediately respond to a request for comment from ABC News on the White House's reaction. On Instagram, she wrote that she would be "making a public statement … soon."
At the Pride event, President Biden spoke out against anti-LGBTQ legislation being introduced and passed in various state legislatures around the country.
He also had a message for "the entire community," but particularly for transgender youth.
"You are loved. You are heard. You are understood," he said. "And you belong."
Copyright © 2023, ABC Audio. All rights reserved.