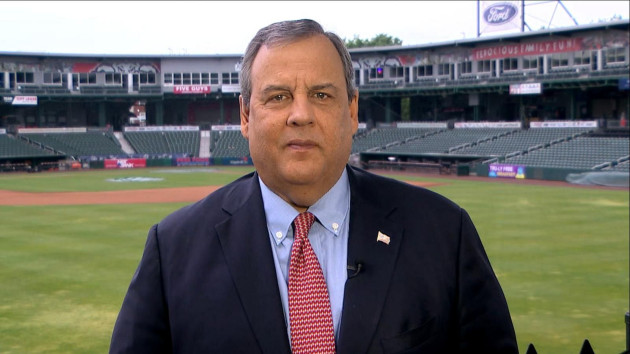 (NEW YORK) — Former New Jersey Gov. Chris Christie wasted no time taking aim at Donald Trump during a CNN Republican Presidential Town Hall with Anderson Cooper Monday night, calling Trump's conduct "inexcusable" for someone who wants to occupy the Oval Office amid a federal indictment against the former president.
Speaking on the eve of Trump's arraignment on federal charges related to his possession of classified information, Christie cast several barbs, calling him "angry," "vengeful" and a "loser."
"He has shown himself, and I think most particularly in his post-presidency, to be completely self-centered, completely self-consumed, and doesn't give a damn about the American people, in my view, if what the American people want is in conflict with what Donald Trump thinks is best for him," Christie said.
Trump was hit with a 37-count indictment from the special counsel's office Thursday, alleging that he willfully retained documents containing the nation's most sensitive secrets, including nuclear programs, after he left office, showed some of them on at least two occasions and then tried to obstruct the investigation into their whereabouts.
The former president has repeatedly denied wrongdoing. Trump on Thursday insisted the case was a "hoax," writing on Truth Social he is "INNOCENT" and it was a "DARK DAY" for the U.S.
A former Trump ally, Christie entered the race for the 2024 Republican nomination last week, positioning himself as one of the fiercest anti-Trump voices in a crowded field of more than a dozen candidates.
In an interview Wednesday on Good Morning America, Christie told ABC News' George Stephanopoulos "there's only one lane to the Republican nomination for president and Donald Trump is at the head of it, and you have to go right through him and make the case against him."
That is just what Christie attempted to do Monday night.
On the evidence featured in the indictment, Christie, a former federal prosecutor, called it "a very tight, very detailed, evidence-laden indictment."
"I mean, put aside taking the documents in the first place," Christie said. "But then when you start getting asked… nicely with a letter from the archivist saying, 'Could you please give it back,' and you ignore it, ignore it, ignore it. Then they come with a grand jury subpoena, and then, according to the indictment, you tell your lawyers to tell them we don't have anything even though you have dozens and dozens of boxes of material. That's obstruction of justice if it's true."
"This is vanity run amok, Anderson, run amok," he said. "Ego run amok, and he is now going to put this country through this when we didn't have to go through it. Everyone's blaming the prosecutors. He did it. It's his conduct."
Christie also called out his fellow Republicans, some of whom he said are "scared" of Trump and others who are "playing political games" with voters.
"I watched the [Iowa Sen.] Joni Ernst roast and ride [fundraiser] thing. It was like [Trump] was Voldemort from Harry Potter. Nobody wanted to mention his name," Christie said. "I mean, how do you beat someone if you won't talk about them? How do you beat them if you won't distinguish yourself from them?"
Early 2024 primary polls compiled by FiveThirtyEight show Christie in the low single digits, significantly behind both Trump and Florida Gov. Ron DeSantis.
Still, Christie questioned the electoral record of the Republican Party under Trump's leadership, saying he "hasn't won a damn thing" since the 2016 election and calling him a "three-time loser."
"[In] 2018, we lost the House. [In] 2020, we lost the White House. We lost the United States Senate a couple of weeks later in 2021 and 2022. We lost two more governorships, another Senate seat and barely took the House of Representatives when Joe Biden had the most incompetent first two years I've ever seen in my life. Loser, loser, loser," Christie told the audience.
Christie said he didn't believe this particular case against Trump was a result of weaponization of the Department of Justice by President Joe Biden, adding the evidence "looks pretty damning." Still, he remained critical of past decisions made by the DOJ, such as the decision not to prosecute Hillary Clinton for her possession of classified emails and the special counsel probe into Russian interference in the 2016 election.
Following the town hall, a spokesperson for Christie's campaign said in a statement the former governor "displayed exactly what all other candidates running for the Republican nomination refuse to do — he told the truth."
Trump is set to be arraigned in federal court in Miami on Tuesday afternoon.
Copyright © 2023, ABC Audio. All rights reserved.