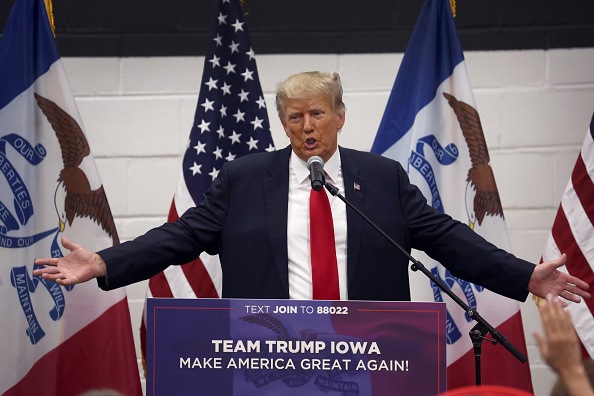 (NEW YORK) — Former President Donald Trump has been indicted on federal charges in an investigation into his handling of classified documents, according to an indictment unsealed on Friday.
The indictment comes after more than 100 documents with classified markings were found at Trump's Mar-a-Lago resort in August 2022.
Trump has been charged with 37 counts: 31 counts of willful retention of national defense information; one count of conspiracy to obstruct justice; one count of withholding a document or record; one count of corruptly concealing a document or record; one count of concealing a document in a federal investigation; one count of scheme to conceal; and one count of false statements and representations.
The indictment of Trump, who has repeatedly denied any allegations of impropriety, is unprecedented for a former president.
Here's how the news is developing. All times Eastern:
Jun 11, 9:47 PM EDT
Trump plans to head to Florida Monday, sources say
Donald Trump is expected to head to Florida midday Monday ahead of his first appearance Tuesday before a federal judge regarding the 37 counts he faces from Special Counsel Jack Smith's investigation, sources familiar with the planning told ABC News.
Jun 11, 6:24 PM EDT
Miami mayor to speak Monday on security for Trump's expected court appearance
Miami Mayor Francis Suarez is expected to hold a press conference Monday regarding the city's "preparations, security measures and traffic impacts in anticipation of former President Donald Trump's presence in the city of Miami on Tuesday."
The event is scheduled for 2 p.m. ET and will take place at the Miami Police Department, according to a press release.
-ABC News' Victor Oquendo
Jun 11, 3:38 PM EDT
Trump plans to speak from NJ after arraignment in Florida
The Trump campaign on Sunday announced that the former president is scheduled to deliver remarks at his Bedminster golf club in New Jersey at 8:15 p.m. ET on Tuesday, after his scheduled court appearance in Florida earlier that afternoon where he will be arraigned on his 37-count indictment.
After Trump was arraigned in his criminal case in New York City in April, and pleaded not guilty, he similarly addressed supporters — that time from his Mar-a-Lago estate in Florida.
-ABC News' Soo Rin Kim
Jun 11, 2:18 PM EDT
Graham insists Trump is politically 'stronger' after indictment'
Sen. Lindsey Graham, R-S.C., argued on ABC's This Week that Donald Trump is "stronger" after last week's indictment and added that the charges don't impact his support for the former president.
"I think Donald Trump is stronger today politically than he was before. … We'll have an election, and we'll have a trial, but I promise you this: Most Americans believe, most Republicans believe, that the law is used as a weapon against Donald Trump," Graham said in a testy interview with "This Week" anchor George Stephanopoulos.
Graham said he did not approve of the former president's handling of classified information but insisted Trump did not deserve to be charged under the Espionage Act.
-ABC News' Tal Axelrod
Jun 09, 5:27 PM EDT
GOP Rep. calls for an 'eye for an eye'
Following the unsealing of Trump's indictment, GOP lawmakers continued reacting to the news this afternoon and one included an incendiary remark.
"We have now reached a war phase. Eye for an eye," Rep. Andy Biggs, a Freedom Caucus member and top Trump ally, tweeted.
Another Trump ally, Rep. Clay Higgins, tweeted that "President Trump said he has "been summoned to appear at the Federal Courthouse in Miami on Tuesday, at 3 PM. This is a perimeter probe from the oppressors. Hold. rPOTUS has this. Buckle up. 1/50K know your bridges. Rock steady calm. That is all."
-ABC News' Gabe Ferris
Jun 09, 5:06 PM EDT
Schumer, Jeffries release joint statement
Senate Majority Leader Chuck Schumer and House Democratic Leader Hakeem Jeffries said in a joint statement Friday, "No one is above the law – including Donald Trump."
"This indictment must now play out through the legal process, without any outside political or ideological interference," they said. "We encourage Mr. Trump's supporters and critics alike to let this case proceed peacefully in court."
Jun 09, 4:13 PM EDT
McCarthy says Trump indictment 'going to disrupt this nation'
House Speaker Kevin McCarthy told Fox News he believes the indictment is "going to disrupt this nation because it goes to the core of equal justice for all."
"This is a very dark day in America when you think about what they're trying to indict President Trump on," McCarthy said, falsely equating the crimes Trump allegedly committed with President Joe Biden's own handling of classified documents.
McCarthy said House Republicans "are not going to stand for it," saying he's already talked to House Oversight Chairman James Comer and House Judiciary Chairman Jim Jordan "of things that we can do to ensure equal justice."
-ABC News' Lauren Peller
Jun 09, 3:29 PM EDT
Trump to appear in court Tuesday
Former President Donald Trump and his aide, Walt Nauta, are set to appear in court at 3 p.m. Tuesday at a federal courthouse in Miami, according to a spokesperson for special counsel Jack Smith.
The indictment was returned Thursday and unsealed on Friday, according to his office.
Trump is expected to arrive at and depart from the Miami courthouse Friday via secure private access points that would make it impossible for the public or journalists to see him.
Secret Service spokesman Anthony Guglielmi said, "While operational security precludes us from going into specifics, the Secret Service will not seek any special accommodations outside of what would be required to ensure the former President's continued safety. As with any site visited by a protectee, the Secret Service is in constant coordination with the necessary entities to ensure protective requirements are met. We have the utmost confidence in the professionalism and commitment to security shared by our law enforcement partners in Florida.
"Miami police will also help Tuesday with "personnel, resources, detours, and/or road closures," Miami Police Chief Manuel Morales said in a statement. "We're committed to protecting everyone's first amendment right and will continue to serve our residents, business owners, and visitors while maintaining the safety of our community."
Jun 09, 3:14 PM EDT
Special counsel speaks out
Special counsel Jack Smith said Friday that he invites everyone to read the indictment "in full to understand the scope and the gravity of the crimes charged."
"The men and women of the United States intelligence community and our Armed Forces dedicate their lives to protecting our nation and its people. Our laws that protect national defense information are critical for the safety and security of the United States, and they must be enforced," he said.
"We have one set of laws in this country, and they apply to everyone," Smith said. "Applying those laws, collecting facts, that's what determines the outcome of an investigation."
Jun 09, 2:43 PM EDT
Trump to writer: 'Secret information … look at this'
In May 2021, prosecutors allege former President Donald Trump brought some of his boxes to his Bedminster, New Jersey, property. On July 21, 2021, Trump, before and during an interview for his upcoming book, showed the writer what he called "secret information" regarding national security, prosecutors said.
"Well, with [the Senior Military Official] — uh, let me see that, I'll show you an example. He said that I wanted to attack [Country A]. Isn't it amazing? I have a big pile of papers, this thing just came up. Look. This was him," Trump said, according to prosecutors. "They presented me this–this is off the record, but—they presented me this. This was him. This was the Defense Department and him."
"Secret. This is secret information. Look, look at this," Trump said, according to prosecutors.
"See as president, I could have declassified it," Trump said, according to prosecutors.
"Now I can't, you know, but this is still a secret," Trump said, according to the indictment.
Jun 09, 2:35 PM EDT
After telling FBI he's an 'open book,' Trump fled Mar-a-Lago with boxes of records: Prosecutors
The indictment alleged that in June 2022, former President Donald Trump, after meeting with officials from the FBI and declaring himself an "open book," flew from his Mar-a-Lago home in Florida to his Bedminster, New Jersey, property with boxes of records that had been packed on his plane earlier that day.
Nauta and "others" had loaded the boxes, prosecutors said.
Jun 09, 2:31 PM EDT
Details revealed in indictment
The indictment alleged that, after the FBI subpoenaed former President Donald Trump, he "endeavored to obstruct the FBI and grand jury investigations and conceal his continued retention of classified documents by" actions including: suggesting his attorney falsely tell the FBI and grand jury that he didn't have documents responsive to the subpoena; directing aide Walt Nauta to move boxes of documents to conceal them from Trump's attorney, the FBI and grand jury; and causing a false certification to be submitted to the FBI and grand jury saying all documents were provided "while knowing that, in fact, not all such documents has been produced."
The indictment noted that between January 2021 and August 2022, Mar-a-Lago hosted more than 150 social events, including weddings and fundraisers "that together drew tens of thousands of guests."
The indictment mentions five of Trump's statements in 2016, when still a candidate for president, including when he said in August 2016 that "in my administration I'm going to enforce all laws concerning the protection of classified information."
According to the indictment, on June 2, an attorney for Trump went through the boxes in the storage room, removed 38 documents with classified markings, placed them in a redwood folder and sealed it with clear duct tape.
Trump allegedly asked, "Did you find anything?…. Is it bad? Good?" and they discussed what to do with the documents, according to prosecutors.
Trump's attorney said at that point Trump "made a funny motion as though- well okay why don't you take them with you to your hotel room and if there's anything really bad in there, like, you know, pluck it out. And that was the motion that he made. He didn't say that."
According to the indictment, Trump and Nauta misled one of the Trump attorneys by moving boxes that contained documents with classified markings so that the attorney would not find the documents and produce them to a federal grand jury.
The indictment details how Nauta allegedly lied to FBI agents in May 2022 when he claimed to have no knowledge of the classified documents being brought to Mar-a-Lago.
Jun 08, 9:19 PM EDT
What 2nd Trump indictment could mean for GOP White House race: Analysis
With former President Donald Trump now facing a second indictment, this time on federal charges, according to sources, it's a turn of events that could shake up the Republican primary field as Trump makes a third run for the White House.
The aftermath of Trump's first indictment in New York connection to an alleged hush money scheme could be an indication of what is to come. Before his first indictment, Trump pledged to continue on with his presidential bid despite charges and even argued that cases could give his campaign a boost. Trump wasn't wrong.
In fact, he still outpaces his GOP rivals in recent polling.
Another boon to his campaign, the fact that Republicans by and large rallied around him after his first indictment — even most of those challenging him in the Republican presidential primary.
But the field of candidates is more crowded now, comprised of more candidates willing to clearly criticize Trump.
-ABC News' Averi Harper
Jun 08, 9:07 PM EDT
Federal indictment expected to be 'speaking indictment': Sources
The federal indictment against former President Donald Trump is expected to be a "speaking indictment" that will lay out chapter and verse the government's case to the public, according to sources.
-ABC News' Ivan Pereira
Jun 08, 8:56 PM EDT
Trump team anticipated indictment for several days: Sources
Former President Donald Trump's team has been anticipating a federal indictment for the past several days, sources said.
Sources said his team is already planning a trip down to Miami and is thinking of holding a campaign event around this indictment.
-ABC News' John Santucci
Jun 08, 8:49 PM EDT
DOJ, White House decline to comment
Spokespeople for the Justice Department and Special Counsel Jack Smith's office declined to comment Thursday evening on Trump's announcement he was informed of his indictment.
White House Spokesperson Ian Sams also declined to comment on Trump saying his attorneys have been informed he has been indicted in the classified documents investigation.
Sams referred ABC News to the DOJ, which he said "conducts its criminal investigations independently."
-ABC News' Molly Nagle and Alexander Mallin
Jun 08, 8:37 PM EDT
Trump charged in 'rocket docket' court — and why that could matter
Former President Donald Trump will face charges in the Southern District of Florida, a venue whose reputation for swift proceedings has earned it "rocket docket" status — a colloquialism that reflects its strict adherence to the speedy trial clock.
Walter Norkin, a former federal prosecutor in the Southern District of Florida, explains why that might be notable.
"The Southern District of Florida is one of the few districts in the country that operates under a 'rocket docket' and, in distinction from the District of Columbia, you can expect a criminal case to be resolved within six months of an indictment issuing," Norkin told ABC News. "The judges in the Southern District of Florida adhere very strictly to the Speedy Trial clock, which, with limited exceptions, requires trial or conviction to occur within 70 days."
As a strategic matter, according to Norkin, the special counsel may have chosen this particular venue as a means to circumvent that inclination as prosecutors face the prospect of "certain policy considerations that take effect as an election nears."
"To the extent a defense strategy would be to delay trial," Norkin continued, "they will have a heavier burden executing that plan in Southern District of Florida than they would in another district."
-ABC News' Lucien Bruggeman
Jun 08, 8:19 PM EDT
What an indictment means for Trump's presidential bid
Former President Donald Trump can still be elected president again — even if he is convicted — experts tell ABC News.
But there are practical reasons that could make it a challenge, the experts told ABC News after Trump was indicted by a Manhattan grand jury in March.
Jun 08, 8:12 PM EDT
Who is special counsel Jack Smith?
Attorney General Merrick Garland tapped Jack Smith in November 2022 as special counsel to oversee the DOJ's investigation into former President Donald Trump's handling of classified materials after leaving office.
Former colleagues have characterized Smith, a longtime federal prosecutor and former head of the Justice Department's public integrity section, as an aggressive prosecutor who would not shy away from taking on difficult prosecutorial judgments, with the background and temperament that make him a strong selection for the high-profile role.
Jun 08, 7:57 PM EDT
What to expect at Tuesday's arraignment
When the former president arrives at Miami federal court on Tuesday, it will mark an extraordinary moment for the country: Trump will be formally placed under arrest by the very government he was once elected to lead.
Once he is arrested, Trump will be booked and processed as a federal defendant and then appear before a judge for an arraignment.
Trump, or one of his attorneys, will enter a not guilty plea, touching off the prosecution of the former president.
The courthouse has spent the last several days preparing for Trump's arrival, but there is no outward sign Thursday night that he is days away from appearing.
Prior to news of the indictment, members of the special counsel's team were seen going into and out of court and the room where a grand jury has been hearing evidence.
-ABC News' Aaron Katersky
Jun 08, 7:51 PM EDT
Trump calls investigation a 'hoax'
Former President Donald Trump posted on his social network Truth Social Thursday evening that his lawyers have been informed he's been indicted.
He called the investigation a "hoax" and said he's an "innocent man."
Trump said he has been summoned to appear at the Miami federal courthouse on Tuesday.
Trump's campaign sent out a fundraising email following news of the indictment.
Copyright © 2023, ABC Audio. All rights reserved.