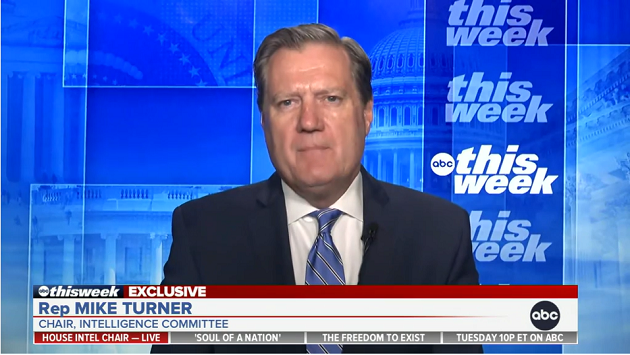 (WASHINGTON) — Rep. Mike Turner, the chair of the House Intelligence Committee, on Sunday lambasted what he called increased military hostility by China and insisted the U.S. "stand strong" after recent close calls near American ships and planes and the suspected spy balloon that was shot down off the East Coast.
"What we're seeing is an unbelievable aggression by China," Turner, R-Ohio, told ABC "This Week" co-anchor Martha Raddatz. "If you look at the balloon that flew over the United States, the Chinese police stations, the aggressiveness against our both planes and ships and international water, it goes right to the heart of what President Xi [Jinping] said when he stood next to [President Vladimir] Putin in Russia where he said they are trying to make change that has not happened in 100 years."
"They're trying to flex their muscles and advance authoritarianism. We need to stand strong," Turner said, "and this administration needs to stand strong against this type of coercion."
The tough rhetoric from Turner comes as relations between Washington and Beijing have become frayed over issues including Taiwan, trade and Russia's invasion of Ukraine, though President Joe Biden has said he seeks "competition, not conflict."
U.S. officials believe China has been coordinating an increasing campaign of harassment, including two incidents in recent days between U.S. and Chinese planes and ships.
When pressed by Raddatz on Sunday on what would be a sufficient response, Turner said President Biden should make it clear that the government views China as an "adversary."
"I think it means calling them out. I mean, this is unacceptable," Turner said. "I think the administration needs to step up and make clear that China has identified itself as an adversary, and we're going to treat it as such."
On Friday in Singapore, Defense Secretary Lloyd Austin both reaffirmed a commitment to the Indo-Pacific region and called for more communication after being refused a sit-down with his Chinese counterpart, Li Shangfu.
"The more that we talk, the more that we can avoid the misunderstandings and miscalculations that could lead to crisis or conflict," Austin said. On Saturday, he said, "We will not flinch in the face of bullying or coercion."
Shangfu recently blamed "bullying" and "double standards" by "some country" and said, "A cold war mentality is now resurgent."
In his "This Week" appearance, Turner said the U.S. should also bolster its defense capabilities against North Korea, which continues to develop a nuclear program and gets much of its aid from China.
"The concept of deterrence — we have weapons, they have weapons — is dead. We need to go to deterrence plus defense," he said. "That means an aggressive missile defense system."
Turner singled out a need for more robust protection around New York City, pointing to efforts by Republican Rep. Elise Stefanik and others to increase missile defense capabilities at Fort Drum, in upstate New York.
"We need to build out that system and we need to hold China accountable for North Korea," he said.
He also praised efforts to arm the Ukrainian military ahead of an expected counteroffensive against Russia, saying it was "amazing to see the ingenuity" with which troops there have used U.S.-supplied munitions, including by taking out a key Russian Kinzhal missile.
However, Turner said the U.S. weaponry should not be used to launch attacks inside of Russia — as Russian border towns have experienced a sharp spike in violence fueled by paramilitary groups who maintain they're fighting for Ukraine.
"I don't know who's behind those," Turner acknowledged on "This Week."
The Biden administration has said it's investigating.
"Certainly, we have to understand that Ukraine needs to be able to defend its territory, they need to defend themselves from Russian aggression," Turner said. "President [Volodymyr] Zelenskyy made a commitment that he would not use U.S. weapon systems in [Russia] and he's made that commitment to me when I saw him last."
Copyright © 2023, ABC Audio. All rights reserved.