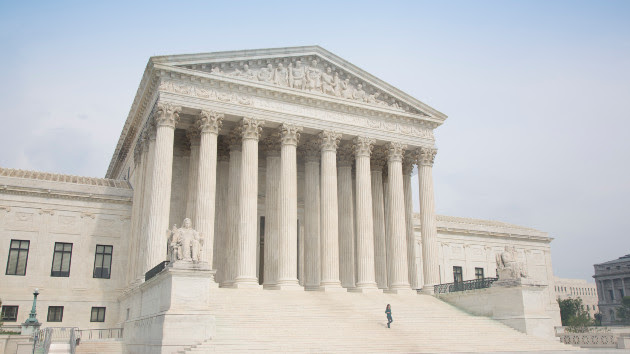 (WASHINGTON) — "The taxpayer must render unto Caesar what is Caesar's, but no more."
With those words, Chief Justice John Roberts and a unanimous U.S. Supreme Court on Thursday sided with a 94-year-old Minnesota woman who got no compensation when the government seized her home over a small unpaid tax bill and pocketed the profit.
In his opinion, Roberts said the state of Minnesota violated the Fifth Amendment's prohibition against government taking private property without "just compensation" in 2015 when it took Geraldine Tyler's one-bedroom condominium.
"A taxpayer who loses her $40,000 house to the state to fulfill a $15,000 tax debt has made a far greater contribution to the public fisc that she owed," Roberts wrote.
Tyler's legal team applauded the ruling as a victory for property rights.
"Today's decision is a major victory for property rights in the United States," said attorney Christina Martin with the Pacific Legal Foundation, which represented Tyler in the case before before the Court. "This decision affirms that property rights are fundamental and don't depend solely on state law. The Court's ruling makes clear that home equity theft is not only unjust, but unconstitutional."
Thomas Berry, a constitutional lawyer with the CATO Institute, a libertarian think tank, also celebrated the ruling, saying, "After this decision, states will no longer be able to get away with the pernicious practice of 'home equity theft.'"
The court rejected arguments made by Hennepin County, which seized the home, that Tyler essentially abandoned her property and could have sold it herself to pay the debt and keep any excess.
Roberts noted that Minnesota was also an outlier in not providing any opportunity for Tyler to obtain the excess after the state's sale. Thirty-six states and the federal government require that excess value be returned to the taxpayer, the court said.
"The County had the power to sell Tyler's home to recover the unpaid property taxes," Roberts wrote. "But it could not use the toehold of the tax debt to confiscate more property than was due."
The decision clears the way for Tyler to return to a lower court to seek compensation from the state. It also effectively strikes down the laws like Minnesota's, which has been branded as "equity theft" by critics.
So-called home equity seizure is legal in roughly a dozen states that authorize municipalities to take possession of a home in the event of delinquency, sell the property and keep the entirety of earnings, regardless of the value of the outstanding tax bill.
Copyright © 2023, ABC Audio. All rights reserved.