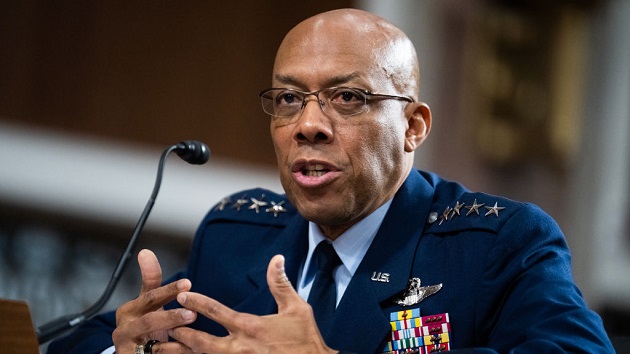 (WASHINGTON) — President Joe Biden plans to nominate Gen. "CQ" Brown, the current Air Force chief of staff, to be the next chairman of the Joint Chiefs of Staff, the White House said Wednesday, elevating the four-star general to be the senior military adviser to the president.
Biden will announce his intent to nominate Brown in a Rose Garden ceremony on Thursday, the White House said.
At 61, Charles Quinton Brown Jr. would succeed Gen. Mark Milley as chairman if the Senate confirms him, and would be the second Black Joint Chiefs chairman after Army Gen. Colin Powell. Also, for the first time in history, the Pentagon's top two leaders, the current secretary of defense, Lloyd Austin, and the Joint Chiefs chairman, would be Black men.
An Air Force F-16 fighter pilot who became an officer after completing his undergraduate degree in engineering in 1984, Brown rose through the ranks to become a general in 2009. He held senior leadership roles in the Middle East beginning in 2015, and in 2018 took command of Pacific Air Forces, America's presence in the skies of the Indo-Pacific.
After being nominated by former President Donald Trump in 2020, the Senate confirmed Brown 98-0 to be chief of staff of the Air Force. His nomination now to lead the military's service chiefs comes as Milley's tenure comes to a mandated end in September. Milley came to have a notoriously strained relationship with Trump, who had chosen him to be chairman.
As Biden's senior adviser in uniform, Brown would be called to contend with a growing Chinese military presence where he once led American airmen, the Indo-Pacific.
Heather Wilson, a former congresswoman and secretary of the Air Force who served with Brown, told ABC News his experience in the region makes him a good fit for the moment.
"There is no more important adversary or potential adversary now than China," she said. "And he has that experience. I think even more than just understanding the strategic landscape of the Pacific, he has started to build relationships with our allies. And one of the things that America has that's an advantage is that we have allies. China generally does not. Their neighbors are afraid of them."
Brown's personal character would be a plus, Wilson said.
"This position, if he's confirmed, has a role in relationships with our allies in deepening those partnerships of trust. And if there's one thing CQ Brown has demonstrated it's that he's a man that you can trust. And I think that will be very important as we deepen our alliances in the Pacific," she said.
The threat is different from the one U.S. leaders have come to know in the Middle East, according to Wilson.
"I think that's a challenge because for the last thirty years, we have really been focusing on terrorist threats all around the world and not necessarily crisis or conflict with a near-peer adversary. That's different. Particularly, a technologically advanced near-peer adversary. So, he has to think about warfare in all of its domains. When we have not had to do that against ISIS and Al Qaeda," she said.
Brown, in a video message spread widely in June 2020, reckoned publicly with the murder of George Floyd in Minneapolis, an injustice he felt compelled to discuss as a senior military leader who was often the first or the only Black man in his position. He said his son asked him how the Air Force would respond to Floyd's killing, and he knew he needed to speak out.
"I'm thinking about how full I am with emotion not just for George Floyd, but the many African Americans that have suffered the same fate as George Floyd," he said. "I'm thinking about a history of racial issues and my own experiences that didn't always sing of liberty and equality."
When Wilson saw the video, she said she "was really proud of him. He had a sense of what airmen needed to hear from him. And as a leader, he was in a unique position to stand up and say so. And – I think – I was really proud of him."
Wilson pointed to the admission of women to service academies for the first time in 1976 as the sort of breakthrough Brown's nomination represents.
"I think this country has benefited from that. We have a stronger national defense because you use the gifts that everyone brings to the table," she said.
Joining ABC's "GMA3" last February, Brown told ABC News, "You can only aspire to be what you can see. And hopefully by me being in this position, I'll inspire many young people to open doors for not just in the military, but just really across the country, to be in a great position to — just like this."
Brown's "style is different," Wilson said. "But that's okay…Different secretaries of defense and different presidents need different things."
"One of the things that CQ does well is listen, and this is in a town where there's a lot more people who want to talk than listen and who listens and understands and synthesizes problems. He asks good questions and then is able to crystallize what the big issues are."
ABC News' Matthew Seyler and Ben Gittleson contributed to this report.
Copyright © 2023, ABC Audio. All rights reserved.