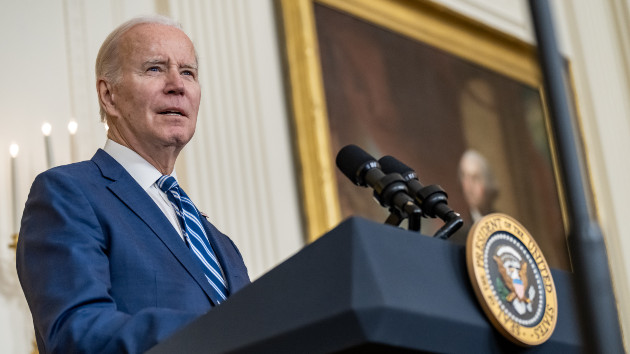 (WASHINGTON) — President Joe Biden plans on Wednesday to call on Republicans in Congress to act to end the "epidemic" of gun violence in the United States, the White House said.
The remarks are expected during an afternoon speech marking a year since the deadly school shooting in Uvalde, Texas.
Nineteen fourth graders and two teachers were killed when a gunman stormed Robb Elementary School on May 24, 2022. Seventeen others were injured.
"The president will remember those lost in Uvalde and reiterate his call for Republicans in Congress to act and help stop the epidemic of gun violence that has become the number one killer of kids in America," a White House official said in the statement.
Biden on the day of the shooting in Uvalde spoke of how he was "sick and tired" of gun violence, saying we "can do so much more." The shooting came 10 days after a gunman attacked a grocery store in Buffalo, New York, killing 10 people.
"It's time — for those who obstruct or delay or block the commonsense gun laws, we need to let you know that we will not forget," he said a year ago at the White House. "We can do so much more. We have to do more."
White House spokesperson Karine Jean-Pierre said on Tuesday that the president believes the Uvalde shooting and the Buffalo supermarket shooting were the catalyst for Congress passing the Bipartisan Safer Communities Act
"While he's very, he's very appreciative of what Congress was able to do, there's so much more to be done … We need to see Congress do something more, do more," she told ABC News. "Put forward some commonsense, gun reform. That's what these families deserve. That's what they should be able to see."
Copyright © 2023, ABC Audio. All rights reserved.