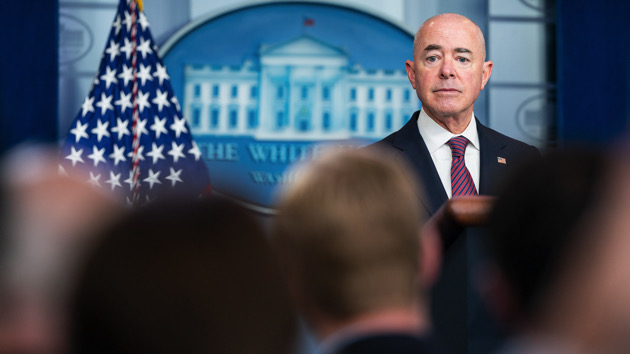 (WASHINGTON) — The Department of Homeland Security on Tuesday announced a body-worn camera policy for all nine law enforcement components under the DHS umbrella, including U.S. Customs and Border Protection, the U.S. Secret Service and Federal Protective Service.
Currently, agents with U.S. Customs and Border Protection have 7,000 body-worn cameras that were issued starting in 2021, and Immigration and Customs Enforcement (ICE) is going through a pilot program for use of the cameras.
The policy announced by DHS allows all the agencies to have a standard for all body-worn camera operations, according to a senior department official.
Secretary of Homeland Security Alejandro Mayorkas signed the policy into effect on Monday and it outlines when officers should wear body-worn cameras.
"As defined by Agency policy, in all appropriate circumstances when [law enforcement officers] are conducting patrol or are otherwise engaged with the public in response to emergency calls," the policy says. "During a pre-planned attempt to serve an arrest warrant or other pre­ planned arrest, including the apprehension of fugitives sought on state and local warrants; or, during the execution of a search or seizure warrant or order."
Mayorkas said this is aimed at gaining the public's trust.
"Our ability to secure the homeland rests on public trust, which is built through accountability, transparency, and effectiveness in our law enforcement practices," said Mayorkas. "Today's policy announcement is designed to advance these essential values. Requiring the use of body-worn cameras by our law enforcement officers and agents is another important step DHS is making to bring our law enforcement workforce to the forefront of innovation, and to further build public trust and confidence in the thousands of dedicated and professional law enforcement officers at DHS."
A senior department official not authorized to speak publicly told ABC News the policy will likely not apply to Secret Service agents on the White House grounds, a key area the Secret Service covers.
"We had to come to the right balance," the agency official said when asked about formulating a policy that would apply to all agencies under the DHS umbrella.
There are about 80,000 law enforcement officers within DHS — which is the largest within the federal government, the official said, however it is not clear that every officer or agent will have a camera.
Body-worn cameras will not be used in the case of First Amendment protected activity, "systemic, indiscriminate tracking of individuals, wide-scale monitoring, or unauthorized surveillance, recording undercover personnel, recording undercover agents or informants, and "for the purpose of recording a particular individual or group of individuals based solely on their race, color, religion, national origin, sex, age, disability, sexual orientation, marital status, parental status, gender identity or expression, or political affiliation," the policy states.
Agencies within DHS "are directed to develop, or update, policies to address the content of this policy within 180 calendar days of this policy's implementation. Agency policies shall include the responsibilities for LEOs to carry operate, maintain, and secure BWC equipment, including when to activate and deactivate the BWCs," according to the policy.
"Agency policies shall identify specialized or sensitive investigative techniques or equipment that may require different treatment under the BWC policy. Implementation of DHS and Agency BWC policies are contingent on the Agency's resource availability and the Agency's deployment plan," the policy says.
Copyright © 2023, ABC Audio. All rights reserved.