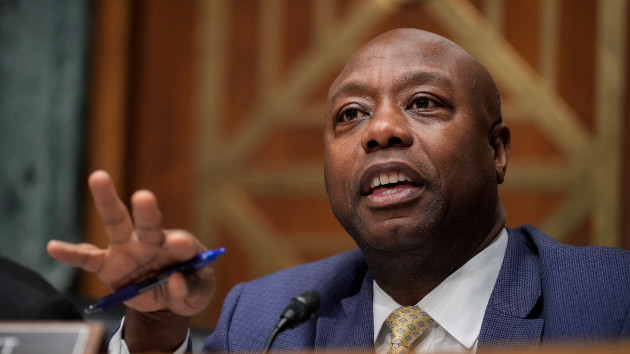 (WASHINGTON) — In another sign that he'll soon make his presidential bid official, South Carolina Sen. Tim Scott is slated to join other 2024 Republican hopefuls at Iowa Sen. Joni Ernst's annual "Roast and Ride" in Des Moines on June 3.
Scott's RSVP comes ahead of a "special announcement" on Monday — when he's expected to formally launch his presidential campaign from Charleston Southern University, his alma mater.
He's set to do so with $22 million on hand after his 2022 Senate reelection race, far outpacing the war chests of all competitors, including those who may be currently outpacing him in polling.
Iowa will host the first Republican presidential nominating contest of 2024.
"I'm grateful to Joni for inviting me back to her annual Roast and Ride," Scott said in a statement released by Ernst's office. "I know from my frequent visits to the Hawkeye State that Iowans are committed to defending the conservative values that make our nation exceptional."
Ernst, who has served with Scott in the Senate for the last eight years, said in her own statement that she's eager to welcome her "friend and colleague" back to the event he also spoke at in 2017.
The "Roast and Ride" at the Iowa State Fairgrounds features a rally and a motorcycle ride and roasting of two kinds — of meats and, this year, of leading Democrats like Joe Biden.
In addition to reminding voters how Democrats stripped Iowa caucuses of their traditional first-in-the-nation status — with many in the party saying Iowa no longer best represented Democratic voters — Ernst has pitched her event to Republican candidates as a necessary stop to engage directly with Iowans from across the state ahead of next year's primary race.
"Iowans are fired up to hear from Tim and many more conservative leaders," she said.
So far, former Vice President Mike Pence, South Carolina Gov. Nikki Haley, entrepreneur Vivek Ramaswamy and talk radio host Larry Elder have also RSVP'd to the event, which is shaping up to be a major gathering of most of the GOP 2024 candidates speaking in the same place.
The setting should offer a preview of the policy ideas and personalities that will soon take center stage on the campaign trail.
Ernst invited all major 2024 Republican candidates — both those declared, like former President Donald Trump, and those who have yet to make their bid official, such as Scott and Florida Gov. Ron DeSantis, who recently made his own high-profile appearances in Iowa.
"The Iowa Caucus has always been about providing a level playing field for presidential candidates to come out here and be able to, regardless of resources or polling, make their pitch directly to Iowans," Republican Party of Iowa Chairman Jeff Kaufmann said in a statement to ABC News. "Joni providing another platform for Iowans to hear more from 2024 hopefuls at 'Roast and Ride' this year is well within the spirit of the Iowa Caucus."
The annual "Roast and Ride" began in 2015 and in its first year featured speeches from seven GOP presidential hopefuls. Trump headlined in August 2016 after winning the Republican nomination.
The proceeds benefit a different veteran's charity each year, as an homage to Ernst's service as a combat veteran, according to her office. This year, The Freedom Foundation based in Cedar Rapids was chosen.
Copyright © 2023, ABC Audio. All rights reserved.