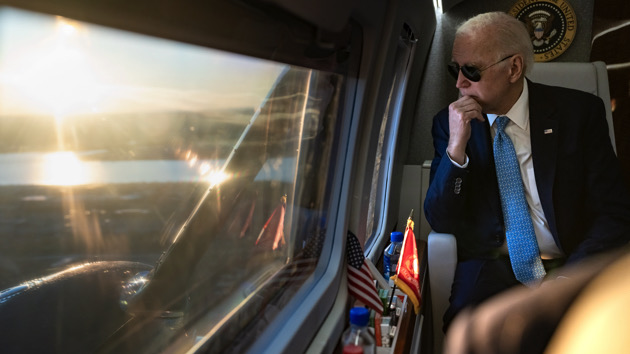 (WASHINGTON) — President Joe Biden on Wednesday said he is "confident" the U.S. will avert default, expressing optimism a crisis could be avoided as he left for a foreign trip even as debt ceiling negotiations were coming down to the wire.
"I'm confident that we'll get the agreement on the budget that America will not default," Biden said from the White House Roosevelt Room. He added, "We're going to come together because there's no alternative."
Biden's remarks come as he embarks on a now five-day trip to Japan to meet with G-7 leaders. The president was due to visit Papua New Guinea and Australia following his appearance in Hiroshima but canceled the back half of the trip to work on a debt ceiling deal.
The president said he'll be in "constant contact" with his team while abroad and will be back in time for the "final negotiation." He also teased a press conference upon his return on Sunday.
Biden, who has insisted raising the debt ceiling is nonnegotiable, made it a point to emphasize the talks are about contours of the 2024 budget.
"Not about whether or not we are going to, in fact, pay our debts," Biden said. "All the leaders have agreed we will not default. Every leader has said that."
House Speaker Kevin McCarthy, holding a news conference on the Capitol steps with other GOP lawmakers just after Biden's remarks, had a different take on the ongoing negotiations.
"The president and Leader Schumer have finally backed off their idea that they won't negotiate," McCarthy said. "They finally backed off the insane, unrational, unsensible idea that you just raise the debt ceiling."
The nation is on track to be unable to pay all its bills sometime in early June, possibly as early as June 1, unless lawmakers raise or suspend the debt ceiling.
There were some signs of progress after Biden and congressional leaders met Tuesday afternoon at the White House.
McCarthy and Biden have appointed top staffers to negotiate a deal. Office of Management and Budget Director Shalanda Young and Steve Ricchetti, counselor to the president, will represent the White House in talks with Rep. Garret Graves, a Louisiana Republican and top McCarthy ally.
The group went to work late Tuesday night and will meet again Wednesday, Biden said.
One sticking point emerging in negotiations are working requirements for social programs. The debt ceiling and budget bill House Republicans passed in April would expand work requirements for some federal aid programs, including the Supplemental Nutrition Assistance Program.
Biden said Wednesday he will not accept any requirements that would impact people's medical or health needs, but opened the door to other provisions.
"It's possible there could be a few others but not anything of consequence," he said.
Meanwhile, House Democrats on Wednesday moved forward with a discharge petition — a rarely used procedural tool that would allow them to bypass traditional rules — as a possible way to raise the debt ceiling absent a deal.
"Emerging from the White House meeting, I am hopeful that a real pathway exists to find an acceptable, bipartisan resolution that prevents a default," House Minority Leader Hakeem Jeffries, D-N.Y., said in a letter to colleagues. "However, given the impending June 1 deadline and urgency of the moment, it is important that all legislative options be pursued in the event that no agreement is reached."
Copyright © 2023, ABC Audio. All rights reserved.