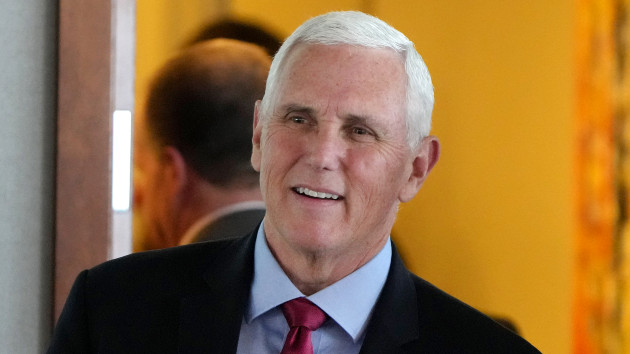 (WASHINGTON) — As former Vice President Mike Pence enters the final weeks of considering whether to make a presidential run, a group of conservatives is launching a super PAC to support his potential candidacy, according to several sources familiar with its planning.
The group, Committed to America, will be co-chaired by veteran GOP consultant Scott Reed, former Texas Rep. Jeb Hensarling, and Bobby Saparow, former campaign manager to Georgia Gov. Brian Kemp. Michael Ricci, who ran communications for Maryland Gov. Larry Hogan, will run the PAC's communications.
The co-chairs hope to in part reintroduce Pence to voters, who they believe don't have a full sense of who the former vice president is, and catch the attention of voters perhaps stuck on other candidates.
"People know Mike Pence, they just don't know him well," Reed told a small group of reporters Friday that included ABC News. "This campaign is going to reintroduce Mike Pence to the country as his own man, not as vice president, but as a true economic, social, and national security conservative — a Reagan conservative."
If Pence decides to wade into the race, he enters a field already dominated by his prior running mate, former President Donald Trump. A majority of GOP voters who are opting not to support Trump currently favor Florida Gov. Ron DeSantis. A recent ABC News/Washington Post poll shows 6% of Republicans and Republican-leaning independents supporting a Pence bid.
Another source familiar with the PAC's planning said Pence would own the "constitutional conservative" lane even if others try to occupy that space. One of those may be former Arkansas Gov. Asa Hutchinson, who has called for Trump to drop out of the race.
"It's not a soundbite with Mike Pence. There's a history," said another source. "There's a record, going all the way back to the house days and being chairman of the Republican Study Committee. Again, it's not a soundbite. It's a record that has a very, very dramatic exclamation point on it."
While it's unclear whether the PAC will attack Trump directly, a source familiar said that the former president's actions on Jan. 6 are "disqualifying," echoing a similar sentiment from Hutchinson. Pence has shied away from laying into his former boss or his character, leaving those sorts of judgements up to voters — though Trump has not returned the favor.
"I guess he figured that being nice is not working," Trump told reporters in response to questions about comments Pence made at the Gridiron Club dinner for Washington insiders, where he claimed that "history will hold Donald Trump accountable" for his actions during the Capitol insurrection.
Although he'd be navigating headwinds within his own party, Pence would be facing a public with growing disdain toward President Joe Biden — with the same ABC News/Washington Post poll revealing staggering new lows for Biden's approval rating.
The group plans to make major investments in Iowa, whose voting contest remains first in line for Republicans. The Democratic National Committee voted to remove the Iowa caucuses from their lineup, causing some pushback from state Democrats who feel left behind by the party. Winning big in the early stages of the process can create inertia for any GOP candidate hoping to de-throne Trump.
"We're going to organize Iowa, all 99 counties, like we're running him for county sheriff," added Reed, who previously managed Sen. Bob Dole's 1996 presidential campaign.
Saparow told reporters he plans on replicating his strategy for Kemp — who bested Trump-backed former Sen. David Perdue in the Georgia gubernatorial primary by over 50 points and eventually beat out Democratic Stacey Abrams in a general election rematch — on a national stage.
"We will also be doing a very extensive paid voter contact program through Committed to America. We have all the confidence in the world that the results that we were able to garner for Gov. Kemp we can duplicate for the vice president," said Saparow.
Once registered with the Federal Election Commission, the Committed to America super PAC can raise funds to support Pence, so long as it doesn't directly coordinate with the former vice president prior to any sort of official campaign launch. The group declined to disclose specifics on initial financial commitments, with a source saying the group will "raise and spend as much money as it takes to be successful."
"Our initial meetings and phone calls have been very successful in terms of commitments, and we're going to continue to grow on that. We're going to need to spend wisely in a very focused way. This will be the Pence-sanctioned super PAC and 100% of the money will go to helping Mike Pence, and no one else," said the source.
A Pence adviser told ABC News a potential announcement could come "broadly" in June.
Any such announcement would have to be made early enough to meet the Republican National Committee's debate polling and domination thresholds. Republican candidates will face off in the first primary debate in Milwaukee in August.
"The country's at real crossroads and the Republican Party needs a strong conservative candidate who can win. Pence has the experience, the unparalleled character, communication skills and the conservative credentials to win both the nomination and a general election," said Reed.
Copyright © 2023, ABC Audio. All rights reserved.