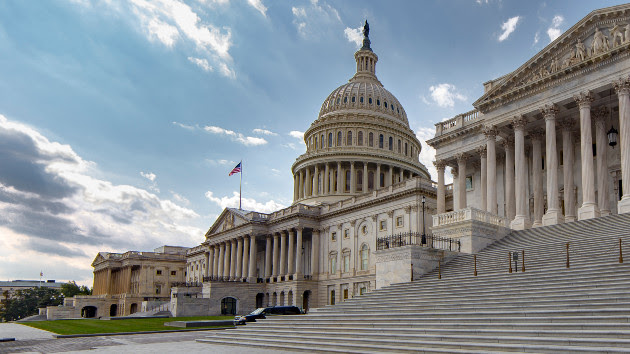 (WASHINGTON) — Sen. Dianne Feinstein returned to her seat on the Senate Judiciary Committee on Thursday, aiding in advancing President Joe Biden's stalled judicial nominees as questions swirl about her health.
Feinstein was met with applause as she entered the hearing room after being welcomed back by Chairman Dick Durbin.
With her votes, district judge nominees Charnelle Bjelkengren, S. Kato Crews and Marian Gaston were advanced after months of delay. The Senate Judiciary Committee on Thursday also advanced three fresher nominees, sending a total of six nominations to the full Senate during Feinstein's reappearance in the chamber.
On Wednesday, Feinstein went to the Senate floor to vote to confirm Glenna Laureen Wright-Gallo, Biden's pick to be an assistant secretary at the Education Department.
Feinstein's months-long absence as she recovered from shingles impacted some of Biden's judicial picks from moving forward, prompting Democrats to seek to temporarily replace her on the Senate Judiciary Committee and some to call for her resignation. Republicans blocked the attempt to seat someone else on the committee during her absence.
Feinstein said earlier this month that she was "disappointed" that Republicans on the panel were blocking some nominees from advancing.
Democrats hold a 11-10 majority on the committee, and a slim 51-49 majority in the Senate — making every vote critical for the party to advance nominees. Durbin, speaking about the California senator during an appearance on CNN on Sunday, said he wanted to treat her "fairly" but "the bottom line is, the business of the committee and of the Senate is affected by her absence."
"We're glad to see her back," White House press secretary Karine Jean-Pierre said of Feinstein during Thursday's briefing.
Feinstein's nonattendance spurred debate about aging politicians. The senator, who has served California in the chamber for three decades, has waved off questions about her cognitive and physical abilities.
Feinstein returned to Washington earlier this week. She was greeted by Senate Majority Leader Chuck Schumer as she arrived at the Capitol in a wheelchair on Wednesday, marking her first day on the Hill since February.
The California Democrat told reporters she was feeling "much better" as she entered the building.
The senator, who at 89 is the oldest sitting member of Congress, has noted she is working on a "lighter schedule" per her doctors' orders.
"Even though I've made significant progress and was able to return to Washington, I'm still experiencing some side effects from the shingles virus. My doctors have advised me to work a lighter schedule as I return to the Senate. I'm hopeful those issues will subside as I continue to recover," Feinstein said in a statement on Wednesday.
Feinstein has said she will retire at the end of her term. Reps. Adam Schiff, Katie Porter and Barbara Lee are among the Democrats who have declared their candidacy for the vacated seat in 2024.
Copyright © 2023, ABC Audio. All rights reserved.