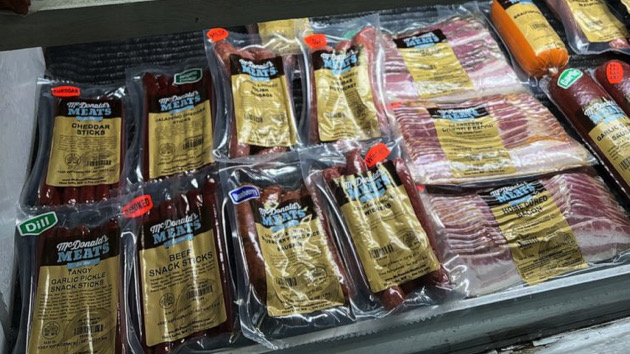 (WASHINGTON) — The U.S. Supreme Court on Thursday rejected a challenge to California's Proposition 12, a statewide ban on the sale of pork from pigs housed in cages or crowded group pens that prevent them from turning around freely.
The ruling, which animal welfare advocates hailed as a "watershed moment," could have a major impact on thousands of farmers, millions of pregnant pigs — and the prices Americans pay at the grocery store for one of the country's most popular meats.
Justice Neil Gorsuch, writing for a five-justice majority, said that California voters overwhelmingly endorsed the "ethical pork" law in 2018 and have the right to decide what products appear on store shelves.
"Companies that choose to sell products in various States must normally comply with the laws of those various States," Gorsuch wrote in the opinion. "While the Constitution addresses many weighty issues, the type of pork chops California merchants may sell is not on that list."
"States have long enacted laws aimed at protecting animal welfare," Gorsuch wrote. "Proponents hoped that Proposition 12 would go a long way toward eliminating pork sourced in this manner from the California marketplace."
Proposition 12, which was approved four years ago but has not yet taken effect due to legal challenges, outlaws pork derived from mother pigs housed in less than 24-square-feet.
The nation's $20 billion pork industry had argued that the restrictions violate the Constitution's dormant Commerce Clause by significantly impacting farmers outside of California and their ability to sell in one of the largest markets.
California consumes 13% of U.S. pork, the largest market in the country, but produces just 1%, according to the U.S. Department of Agriculture.
Farmers in heavy pork-producing states like Iowa, Minnesota and North Carolina had warned it will cost billions of dollars to retool their operations to comply with California's law, resulting in less efficient and environmentally sustainable production. Most American pork is produced in facilities that do not meet Prop 12 standards, the industry says.
"We are very disappointed with the Supreme Court's opinion. Allowing state overreach will increase prices for consumers and drive small farms out of business, leading to more consolidation," said Scott Hays, a Missouri pork producer and president of the National Pork Producers Council, which sued California.
The high court decision affirms rulings of two lower courts that found the out-of-state pork producers had failed to state a valid claim against California as a matter of law.
But several dissenting justices and outside legal scholars say the Court's decision keeps the door open to a future legal challenge against Prop 12 on different grounds.
"We are still evaluating the Court's full opinion to understand all the implications. NPPC will continue to fight for our nation's pork farmers and American families against misguided regulations," Hays said.
Chief Justice John Roberts and Justices Samuel Alito, Brett Kavanaugh and Ketanji Brown Jackson dissented in part from the Gorsuch opinion.
"I would find that the petitioners have plausibly alleged a substantial burden against interstate commerce and would therefore vacate the judgment and remand the case for the court below to decide whether petitioners have stated a claim," Roberts wrote.
Last year, ABC News got a rare inside look at three commercial pork farms on both sides of the Prop 12 debate.
"When you need to make changes just to comply with the California market, I'm very worried about what our long-term success would be," third-generation Minnesota pork farmer Mike Boerboom said at the time.
His farm, which raises more than 400,000 pigs a year, is not Prop 12 compliant. "We've been raising pigs in confinement for 40 years," he said.
The Biden administration took the side of pork farmers, concerned that a single state should not be allowed to excessively disrupt a major American industry.
But even before the Court's decision, there were signs market forces and consumer preferences have nudged producers toward what animal advocates consider more ethical practices.
"We believe that that creates a healthier animal, and a healthier animal equates to healthier product to eat," said John Jovaag of Austin, Minnesota, whose farm is part of the Niman Ranch network of family farmers who specialize in certified "humanely-raised" pigs and other animals.
"They need more farmers doing it this way to meet the demand," Ruth Jovaag said of rapidly evolving consumer preferences. "There's not enough supply."
Major pork producers like Hormel and Tyson Foods — who initially opposed Prop 12 — say they are preparing to comply with at least parts of the law because of growing demand for humanely raised meat.
"This is a truly watershed moment for animal welfare," said Chris Oliviero, general manager of Niman Ranch in a statement on the Supreme Court decision. "Since day one, Niman Ranch has been one of the only companies to ban the use of crates for raising hogs and today our more than 500 independent family farmer partners proudly raise their pigs 100% crate free."
Kitty Block, president and CEO of the Humane Society of the U.S., which helped enact and defend Proposition 12, said the law is now "the nation's strongest farm animal welfare law."
"We're delighted that the Supreme Court has upheld California Proposition 12," Block said in a statement, "and made clear that preventing animal cruelty and protecting public health are core functions of our state governments."
Copyright © 2023, ABC Audio. All rights reserved.