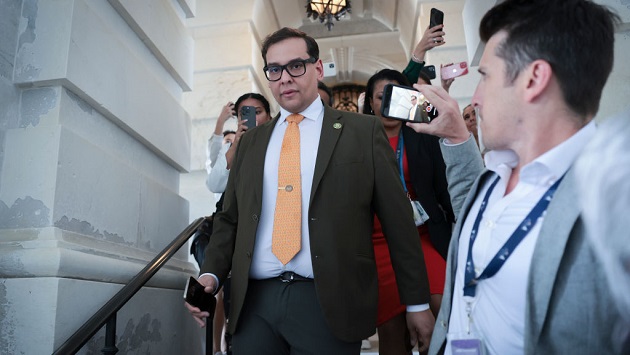 (WASHINGTON) — Rep. George Santos co-sponsored a bill to crack down on a crime he is accused of.
The House voted on H.R. 1163, known as the "Protecting Taxpayers and Victims of Unemployment Fraud Act," on Thursday. The bill, which passed by a vote of 230-200, would provide incentives to help states recover money that was lost to COVID unemployment fraud. Under the bill, states would retain 25% of recovered fraudulent overpayments and the statute of limitations for federal criminal charges or civil enforcement actions related to unemployment insurance fraud would be extended from five to 10 years.
But on Wednesday, Santos was indicted on 13 criminal counts, including allegedly fraudulently applying for and receiving unemployment benefits during the COVID pandemic when he actually had a $120,000 salary working as a regional director of an investment firm, according to the charging documents.
Santos allegedly applied to receive New York state unemployment insurance benefits, falsely claiming that he had been unemployed since March 22, 2020, prosecutors said in charging documents. He is also accused of collecting more than $24,000 in benefits when he actually had a $120,000 salary working as a regional director of an investment firm, according to the indictment.
Santos denied the allegations of unemployment fraud Wednesday.
"I will get to clear my name on this," Santos told ABC News' Rachel Scott following his court appearance in Islip, New York.
"During the pandemic, it wasn't very clear. I don't understand where the government is getting their information but I will present my facts," he added, saying his employment changed during that time.
Santos dismissed the criminal charges filed against him, telling reporters he was going to "fight the witch hunt" and "clear [his] name," noting he was "innocent until proven guilty."
The freshman congressman has admitted to fabricating parts of his biography, acknowledging that he never graduated from college, despite publicly saying that he earned a degree from Baruch College. He also said that he stated his work experience "poorly" when he said he worked for companies such as Citigroup and Goldman Sachs. Spokespeople for both companies told ABC News that they have no record of Santos ever being employed.
Rep. Jim McGovern, D-M.A., took to the floor Wednesday to suggest a change to the bill Santos sponsored in light of the charges against him.
"I think we should rename this the George Anthony Devolder Santos Fraudster Protection Act," McGovern said.
"They ignore billionaires who pay no taxes, but they want us to believe there's an unemployment insurance crime spree…while at the same time a sitting member of the House Republican Conference was indicted in federal court this morning for unemployment fraud."
The bill will be brought up for consideration on Thursday alongside H.R. 2, or the "Secure the Border Act."
Copyright © 2023, ABC Audio. All rights reserved.