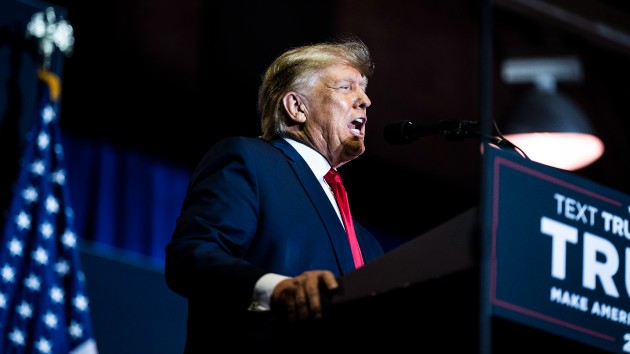 (WASHINGTON) — A day after being found liable for battery and defamation, former President Donald Trump is set to participate in a prime-time town hall on CNN on Wednesday — after years of bitter battle with the cable network over its sharply critical coverage.
It's the first time the recently indicted and twice-impeached former president will appear on the network since the 2016 presidential campaign, with Trump as the first candidate CNN will provide a town hall setting to as part of a series of such forums during the 2024 presidential cycle.
On Tuesday, before the jury reached a verdict in the civil case alleging rape brought by E. Jean Carroll, Trump said that the event, moderated by CNN This Morning anchor and former CNN Chief White House Correspondent Kaitlan Collins, "could turn into a disaster for all, including me," but claimed in a post on his Truth Social media platform, "They made me a deal I couldn't refuse!!!"
A CNN spokesperson told ABC News that "No subject is off limits" as criticism mounted of both Trump and CNN.
The network has promoted the town hall, taking place at St. Anselm College in New Hampshire at 8 p.m. ET, as featuring Trump fielding questions from Republican and undecided voters.
Trump, who during and after his time in office had repeatedly blasted the network as "fake news," said CNN was "desperate to get those fantastic (TRUMP!) ratings once again."
Critics of CNN said it should not be giving Trump a live, prime-time platform — "normalizing" him as just another presidential candidate — and claiming it's part of new CNN effort to appeal to a more conservative audience.
"Jury finds Trump guilty of sexual assault. Great timing for the CNN Town Hall!" Norman Ornstein, a political scholar, said in a tweet on Tuesday following news of Trump being found liable.
The former president also is currently under multiple investigations into his efforts to overturn the 2020 election.
CNN has tried to rebut those critics' claims by stating it was only giving Trump — the current GOP primary front-runner — the same platform it would be giving other 2024 presidential hopefuls.
"This Town Hall is part of a longstanding CNN tradition of hosting leading presidential candidates for Town Halls and political events, connecting those running for office directly with constituents, as part of the network's robust campaign coverage," a CNN spokesperson said in a statement. "CNN is no stranger to these types of events and this Town Hall will be the first of many in the 2024 election cycle."
David Zaslav, the CEO of CNN's parent company Warner Bros. Discovery, said in a recent interview with CNBC that Trump's stature in the 2024 race warranted his appearance on the network.
"We need to hear both voices," Zaslav said.
The Great Task, a political action committee sponsored by former GOP Rep. Liz Cheney, launched a new ad Tuesday it said was scheduled to air on CNN this week in New Hampshire "ahead of and during the former President's scheduled town hall on the network in the state."
The ad warns voters that "Donald Trump is a risk America can never take again," highlighting scenes from the Jan. 6 insurrection.
At the same time, some observers have highlighted the personal matchup between Trump and Collins, who earned a reputation for tough but fair coverage during Trump's tenure and who was once barred from a Rose Garden event after objecting to her questions.
Alyssa Farah Griffin, a panelist on ABC News' The View, and a former member of Trump's communications team, tweeted that Collins "is one of the toughest interviews out there. Anyone thinking that Trump will get away with lying without being called out needs to watch her past interviews. Honestly surprised he agreed."
Copyright © 2023, ABC Audio. All rights reserved.