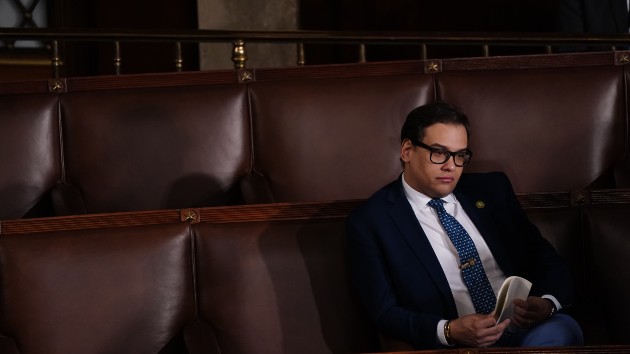 (NEW YORK) — A day after Rep. George Santos, R-N.Y., was charged by federal prosecutors in the Eastern District of New York, the embattled congressman could make his first court appearance as soon as Wednesday, according to sources familiar with the matter.
While the charges remain sealed, sources have previously told ABC News that the FBI, federal prosecutors in the Eastern District of New York, and the district attorneys' offices in Queens and Nassau counties have been investigating Santos.
Only when Santos appears in court will the criminal charges be unsealed.
Investigators have been focusing on Santos' financial disclosures, according to sources.
In a series of campaign disclosure amendments filed in January, Santos marked two loans that he had previously reported as loans from himself — $500,000 from March 2022 and $125,000 from October 2022 — as not from "personal funds from the candidate."
In a previous version of his campaign disclosure, the $500,000 was reported as a loan from George Anthony Devolder-Santos, with a checked box indicating it was from "personal funds of the candidate." But in an amendment to that report filed earlier this year, that box was left unchecked.
Santos, who was elected in November to represent New York's 3rd Congressional District, has been under mounting scrutiny over his finances — with 2022 disclosures indicating millions in assets after previously disclosing less than $60,000 in income in 2020.
Additionally, as ABC News previously reported, the FBI contacted a Navy veteran, Richard Osthoff, about a GoFundMe campaign Santos established to raise money for the veteran's service dog.
Santos established the GoFundMe account under the auspices of a charity, Friends of Pets United, and raised $3,000 to help Osthoff pay for surgery to remove a tumor from the dog, sources said.
But Osthoff told ABC News Santos did not come through with the money and ignored text messages about it. The dog, Sapphire, subsequently died.
Santos insisted earlier this year he would serve out his term despite mounting controversies surrounding his past falsehoods, scrutiny of his finances, and multiple investigations.
Santos, who has admitted to fabricating parts of his biography, has denied any criminal wrongdoing.
Copyright © 2023, ABC Audio. All rights reserved.