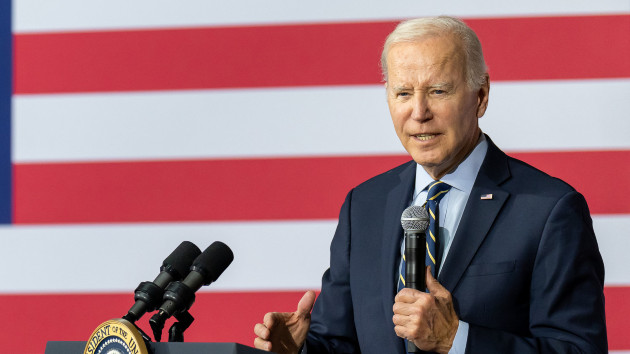 (WASHINGTON) — President Joe Biden will travel to New York state's Hudson Valley region on Wednesday to talk about the federal debt limit, and it appears he will be reiterating the same message he's been sharing for weeks.
A White House official said Biden plans to hammer home his view that a default would prove catastrophic, that the Republicans' plan is bad for Americans and that he's open to talking about certain spending cuts — but not in the context of the debt ceiling.
Biden's remarks in Valhalla, New York — part of a congressional district he won in the 2020 presidential election that is now represented by a Republican — will come one day after he met with congressional leaders about their impasse over the debt limit. The high-stakes meeting ended without a consensus on Tuesday, just weeks before a June 1 deadline to reach a deal or the U.S. government defaults on its obligations for the first time.
"The president will lay out the stakes for hardworking families across New York and the United States: default would threaten 8 million jobs, a recession and retirement plans for millions of Americans," the White House official said.
"The president will also make clear that he believes in fiscal responsibility," the official added. "His budget would cut the deficit by nearly $3 trillion over 10 years. And instead of cutting programs hardworking Americans rely on, he believes we must cut wasteful spending on big oil by $30 billion and big pharma by $200 billion, and make sure the wealthy and large corporations pay their fair share."
House Speaker Kevin McCarthy, R-Calif, suggested Tuesday that energy-related cuts could be something he thought he and Biden could agree on.
Rep. Mike Lawler, R-N.Y., who represents the congressional district that includes Valhalla, said he has accepted a White House invitation to appear alongside Biden on Wednesday.
"America is not a deadbeat nation," the White House official said. "We pay our bills. Congress has a constitutional duty to prevent default."
Copyright © 2023, ABC Audio. All rights reserved.