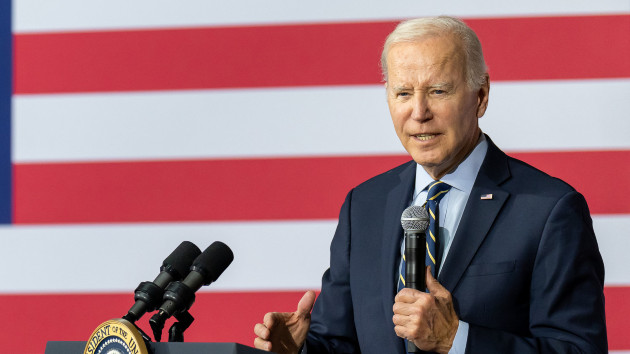 (WASHINGTON) — President Joe Biden on Wednesday continued to pressure House Speaker Kevin McCarthy and other Republicans to increase the debt limit without tying it to their spending proposal just one day after his meeting with congressional leaders that produced no progress.
"Our economy would fall into recession, and our international reputation would be damaged in the extreme. We shouldn't even be having this, talking about this situation," Biden warned, during remarks in New York's Hudson Valley.
"[I]f we default on our debt, the whole world is in trouble. This is a manufactured crisis. There's no question about America's ability to pay its bills. America is the strongest economy in the world and we should be cutting spending and lowering the deficit without a needless crisis in a responsible way," he added.
Speaking at a community college in Valhalla, New York, Biden defended himself against McCarthy's repeated criticism that it took more than 90 days for Biden to meet with him again about the debt ceiling. Biden said that the delay was McCarthy's fault — for not laying out a GOP budget proposal.
"Yesterday, I brought congressional leaders together at the White House to make sure America doesn't default on its debt and for the first time in our history," Biden said, "And by the way, I know the speaker keeps saying, '93 days ago I said to Biden, I want to talk to him.'"
Biden continued: "I said, 'Fine.' I said, 'You put down your budget; I'll put down mine.' I laid mine down in detail on the fourth — on the ninth of – of March. He didn't put down his so-called budget — I don't know whatever — what'd you call it — his connecting the two items. He didn't do that until — five days after he did it, I invited him to the White House."
He again noted that McCarthy is beholden to the more extreme members of Congress.
"They have a speaker who has his job because he yielded to the, quote, 'MAGA' element of the party," he said.
Meanwhile, Biden again praised Senate Minority Leader Mitch McConnell for saying the U.S. won't default — as Biden did during his remarks late Tuesday.
"I was pleased but not surprised by the Republican leader in the United States Senate, McConnell, who said after the meeting in the White House, and he went to the press, he said, the United States is not going to default," Biden said. "It never has and it never will."
"We shouldn't even be talking about it," Biden added.
Biden was speaking in a congressional district he won in 2020 but whose House seat a Republican won.
That Republican, Rep. Mike Lawler, decided to attend alongside Biden — a rarity for a Republican congressman when the president visits.
Biden noted Lawler — who he described as being "on the other team – was there.
"Mike is the kind of guy that when I, when I was in the Congress, he was a kind of Republican I was used to deal with, but he's not one of these MAGA Republicans which I'm going to talk a little bit about," Biden said. "I don't want to get them in trouble by saying anything nice about them or negative about them but I, thanks for coming Mike, thanks for being here. This way we used to do it all the time."
Copyright © 2023, ABC Audio. All rights reserved.