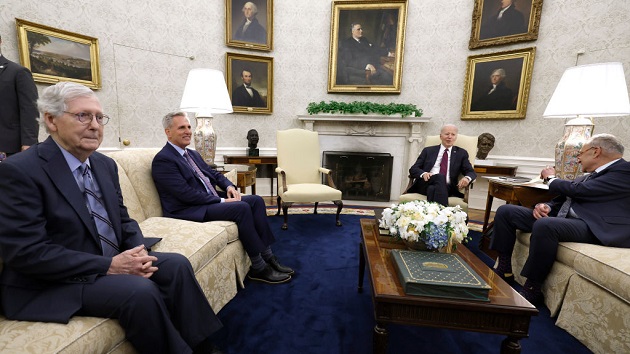 (WASHINGTON) — A high-stakes meeting on the debt ceiling got underway Tuesday afternoon at the White House as lawmakers stare down a June 1 deadline to reach a deal or risk default.
The sit-down between President Joe Biden and top congressional leaders — House Speaker Kevin McCarthy, House Minority Leader Hakeem Jeffries, Senate Majority Leader Chuck Schumer and Senate Minority Leader Mitch McConnell — is the first major discussion on the issue since Biden and McCarthy last met in February.
The lawmakers declined to take questions as they arrived in the Oval Office but were expected to speak afterward.
"We're going to get started, we're going to solve all the world's problems," a smiling Biden quipped with a hint of sarcasm as the meeting kicked off.
Leaving the Capitol for the White House, McCarthy told ABC News Senior Congressional Correspondent Rachel Scott, "We hope the president is finally willing to negotiate."
Biden has said raising the debt ceiling is non-negotiable.
Both sides still seemed miles apart on a debt ceiling fix ahead of Tuesday's meeting, though a rare point of agreement did emerge: opposition to a short-term solution.
"He's gotta stop ignoring problems," McCarthy said about Biden earlier Tuesday. "And why continue to kick the can down the road? Let's solve it now."
White House press secretary Karine Jean-Pierre told reporters during the daily briefing, "A short-term extension is not our plan, either. That is not our plan."
Jean-Pierre reiterated the Biden administration's view that it is Congress' duty to enact a clean raise to the debt ceiling without conditions.
Republicans have demanded federal spending cuts in exchange for a debt ceiling increase. The House GOP narrowly passed the Limit, Save, Grow Act last month to lift the limit for one year while also reducing funding for federal agencies to 2022 fiscal year levels and limiting growth in government spending to 1% per year.
McCarthy said he believed a deal in principle on the matter is needed by next week in order to avert default, which Treasury Secretary Janet Yellen warns could come as soon as June 1 though there's still uncertainty about the exact date when the government would be unable to pay all of its bills.
The speaker went on to say he was not optimistic about Tuesday's negotiations at the White House.
"Why should I have high expectations if he wasted three months and put us in jeopardy?" McCarthy told reporters.
The White House told ABC News Chief White House Correspondent Mary Bruce Biden wouldn't give Republicans an "off-ramp" in the negotiations.
"The exit strategy is very clear, do your job. Congress must act, prevent a default," Jean-Pierre said when asked by Bruce what a successful meeting would look like.
Administration officials have warned adversaries like China and Russia could take advantage if the U.S. were to default, and economists state there would be wide-reaching impacts that could trigger a global financial crisis.
"It's widely agreed that financial and economic chaos would ensue," Yellen said Sunday on ABC's "This Week".
If the U.S. were to default for the first time in history, Americans are split on who would bear responsibility.
A recent ABC News/Washington Post poll found 39% would mainly blame the Republicans in Congress, while virtually as many, 36%, say they'd mainly blame Biden. Sixteen percent volunteer that they'd blame both parties equally.
ABC News' Ben Gittleson, Jay O'Brien and Gabe Ferris contributed to this report.
Copyright © 2023, ABC Audio. All rights reserved.