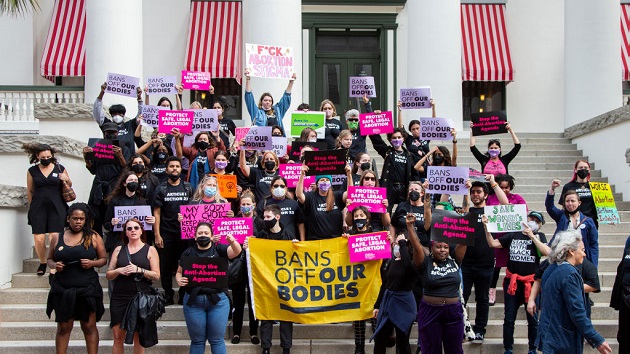 (TALLAHASSEE, Fla.) — A coalition in Florida launched an effort Monday to get a question on the ballot in the 2024 general election that would enshrine abortion rights in the state constitution.
The group, Floridians Protecting Freedom, is proposing asking voters if they support a constitutional amendment that would allow a woman to have an abortion up to when the fetus can survive outside the womb, typically between 24 weeks' and 28 weeks' gestation.
Since the Supreme Court overturned Roe v. Wade last summer, 15 states have ceased nearly all abortion services.
Florida will be the 16th state once a new six-week abortion ban is implemented — but only if the state's current 15-week ban is upheld as legal challenges play out in court.
"No law shall prohibit, penalize, delay, or restrict abortion before viability or when necessary to protect the patient's health, as determined by the patient's healthcare provider," reads the language of the proposed ballot question. "This amendment does not change the Legislature's constitutional authority to require notification to a parent or guardian before a minor has an abortion."
However, for it to appear on a ballot, the coalition needs to gather nearly 900,000 signatures — representing 8% of the total number of votes cast in the last presidential election — by Feb. 1, 2024.
What's more, signatures must be collected from at least half of the state's 28 congressional districts, according to Florida's Constitution.
Once the Florida Secretary of State certifies that an initiative has crossed the threshold of signatures, its state's Attorney General, Ashley Moody, is required to file a petition with the Florida Supreme Court seeking asking whether it can be included on the ballot.
However, the Attorney General can challenge the ballot initiative. In 2019, Moody challenged a ballot imitative seeking to legalize marijuana for recreational use, saying it was too long and couldn't be adequately summarized, according to the Orlando Sun Sentinel.
"Floridians deserve the freedom to control their lives, their bodies, their health care, and their futures," Kara Gross, legislative director at the ACLU of Florida — one of the groups in the coalition — said in a statement.
"The decision about whether and when to continue a pregnancy is one of the most, if not the most, important decisions we make. We should be free to make this decision in consultation with our medical providers and those we love and trust, without political interference."
The governor's office did not immediately reply to ABC News' request for comment.
It comes after several successful ballot initiatives related to abortion rights were launched last year.
In August, 59% of Kansas voters said "No" to repeal the right to abortion in the state's constitution in the first state-level test since Roe v. Wade was overturned.
Meanwhile, during the November 2022 election, voters in California, Michigan and Vermont enshrined abortion rights in their constitutions while those in Kentucky and Montana states voted against further restricting access to abortion services.
Copyright © 2023, ABC Audio. All rights reserved.