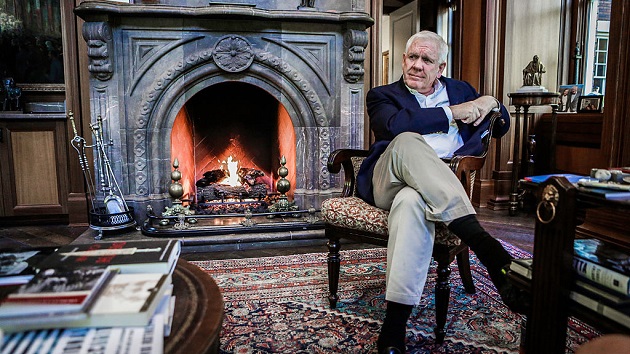 (WASHINGTON) — The Democrat-led Senate Judiciary Committee is seeking more information on the extent of billionaire Harlan Crow's gifts to Supreme Court Justice Clarence Thomas.
The panel's 11 Democrats requested itemized lists of gifts worth more than $415, real estate transactions, travel and lodging accommodations and admissions to private clubs provided by Crow to any justice or members of their families.
"As part of the Senate Judiciary Committee's ongoing efforts to craft legislation strengthening the ethical rules and standards that apply to the Justices of the Supreme Court, we request that you provide the Committee with certain information by May 22, 2023," a letter sent Monday to Crow said.
The lawmakers also sent letters to the holding companies of Crow's jet and yacht as well as to Topridge Camp — his private resort in the Adirondacks — seeking more information on any gifts to Thomas or any other justice.
"Like we've said: if the Court won't implement ethics reform itself, Congress must," Sen. Dick Durbin, D-Ill., tweeted about the letters. "This is the next step."
The letters follow a Senate Judiciary Committee hearing last week in which legal experts testified on whether Congress has the authority to require the high court to adopt an enforceable code of conduct.
Republicans have accused Democrats of "selective outrage" in going after Thomas and say it's part of the party's effort to delegitimize the Supreme Court's conservative majority.
"This is not about judicial ethics," Sen. Ted Cruz, R-Texas, said during the hearing. "This is not about rules that should apply to judges across the board. We could have a reasonable discussion about that. This is about applying a double standard to Clarence Thomas, and only Clarence Thomas."
Thomas has faced intense scrutiny since ProPublica reported last month that Thomas received luxury trips from Crow for years and did not disclose them on his financial filings.
Thomas said it's been his understanding that "this sort of personal hospitality from close personal friends, who did not have business before the Court, was not reportable."
There were deeper financial ties between the two men, with Crow paying for tuition at two private schools for Thomas's grandnephew, another ProPublica report last week said. The total sum for tuition was not known, but it could've exceeded $150,000, the organization reported.
In response to the report on Crow paying for the tuition, Crow's office said in a statement provided to ABC News that he "has long been passionate about the importance of quality education and giving back to those less fortunate, especially at-risk youth" and that he and his wife have supported many young Americans through schooling. Thomas did not comment on the report.
Amid Democrats' push for ethics reform, all nine Supreme Court justices signed a statement rebutting proposals for independent oversight as they reaffirmed voluntary adherence to a general code of conduct.
"This statement aims to provide new clarity to the bar and to the public on how justices address certain recurring issues and also seeks to dispel some common misconceptions," they wrote.
The back-and-forth between the two federal branches comes as public opinion of the court is at a low, polling shows. A new poll from ABC News/Washington Post found 51% of Americans think justices base their rulings mainly on their personal political opinions, not on the law.
ABC News' Devin Dwyer contributed to this report.
Copyright © 2023, ABC Audio. All rights reserved.