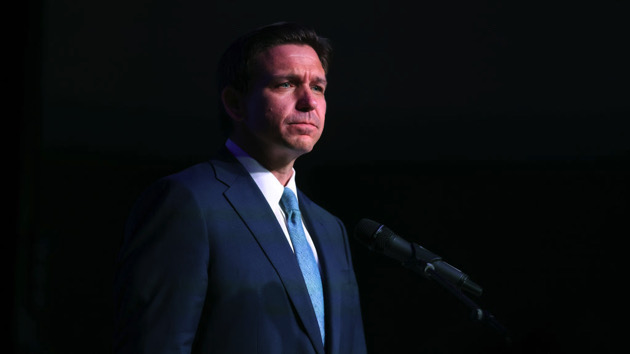 (NEW YORK) — During his first bid for statewide office in 2018, Ron DeSantis was grappling with a key issue that he could soon face again during his potential 2024 bid for the White House: how to not alienate Donald Trump's base.
"Is there any issue upon which you disagree with President Trump?" DeSantis was asked by Florida Rep. Matt Gaetz in footage exclusively obtained by ABC News of the team's mock debate sessions during DeSantis' 2018 run for governor.
"I have to figure out how to do this," then-Congressman DeSantis replied, while letting out a deep sigh.
"Obviously there is because, I mean, I voted contrary to him in the Congress," DeSantis continued. "I have to frame it in a way that's not going to piss off all his voters."
DeSantis goes on to suggest that he would respond by saying he would "do what I think is right," and "support [Trump's] agenda."
"If I have a disagreement, I talk to him in private," he said.
ABC News obtained nearly two and a half hours of raw internal tapes of DeSantis' 2018 debate prep sessions that have not previously been made public. His comments in the videos provide a rare glimpse into how the Florida governor, who is now poised to enter the 2024 Republican primary, had previously calculated how to effectively appeal to Donald Trump's fiercely loyal base while also working to carve out his own lane as a candidate — a balance that DeSantis may need to hone if he is to secure the party's nomination in 2024.
A representative for DeSantis declined to comment when contacted by ABC News.
These new videos come amid ABC News' recent reporting that DeSantis' team has already quietly begun debate prep for the upcoming GOP primary, including reviewing past debate performances, sources familiar with the preparations have said. DeSantis is now likely to skip announcing an exploratory committee, despite previous reports, and instead is expected to launch a full campaign next month, sources said.
In the 2018 tapes, DeSantis at times stands behind a podium sparring with his advisers — which include Gaetz and then-state representative Byron Donalds — as they role-play DeSantis' opponent and work through issues and possible responses to a range of questions, including whether he would accept funding from the NRA.
"Has the NRA donated to me?" DeSantis asks his team at one point.
"I don't think the NRA is quite the boogeyman the Democrats think it is," he says later.
Gaetz and Donalds, now both Republican members of Congress from Florida, have both endorsed Trump's third bid for the White House in 2024.
The tapes, which depict two separate debate prep sessions during DeSantis' 2018 gubernatorial campaign against Democrat Andrew Gillum, also show DeSantis' team privately working through what they raise as the governor's likability issues.
During one session captured on video, an adviser suggests that DeSantis should immediately write the word "LIKABLE" in all caps on the top of his notepad when he gets to the podium on debate night.
"I do the same thing, 'cause I have the same personality, we're both aggressive," the adviser, who is off camera, tells DeSantis.
"You want to have that likable, dismissive tone, and not condescending," an adviser tells DeSantis during an off-camera exchange at another point in the video, to which DeSantis responds: "Yeah, definitely."
At another point in the session, DeSantis dismisses some of his team's suggestions regarding how to hit at his opponent.
"Some of the ones that are digs, I don't think they work," DeSantis, who is off camera, can be heard saying. "I think it makes me look like an ass—-."
Sources tell ABC News that during DeSantis' primary debate prep in recent weeks, his team has been paying close attention to how to help manage the governor's facial reactions.
DeSantis' facial expressions were on display during his recent trip to Japan when he was asked a question about trailing behind Trump in polls. His animated answer to the question went viral, with one clip garnering nearly 20 million views.
"Ron always had a problem with letting attacks get to him and getting visibly shaken by them," one former adviser, who was previously involved in debate prep with DeSantis, told ABC News. "Not sure how that would play with Trump standing across from him."
Copyright © 2023, ABC Audio. All rights reserved.