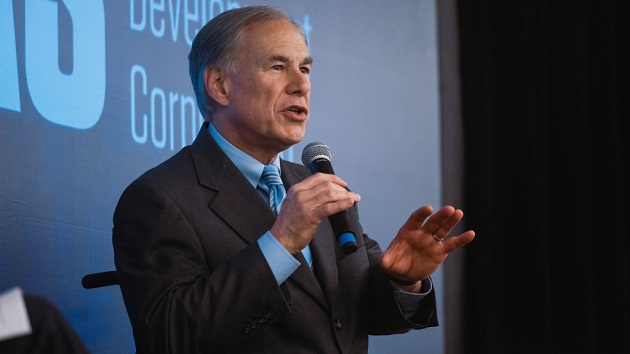 (WASHINGTON) — Texas lawmakers on Sunday reacted to the latest mass shooting in America — at an outdoor mall north of Dallas — by focusing on the importance of mental health treatment and prayer.
In an interview on "Fox News Sunday," Gov. Greg Abbott pointed to shootings in other states with stricter gun laws and argued that prioritizing mental health could help prevent more violence.
Eight people were killed and seven others were injured before the suspected gunman was killed by police on Saturday in Allen, Texas, authorities have said.
"What we've seen across the United States over the past year or two … is an increased number of shootings in both red states and blue states. Shannon, we've seen an increased number of shootings in states with easy gun laws as well as states with very strict gun laws," Abbott, a Republican, told anchor Shannon Bream on Sunday.
"One thing that we can observe very easily is that there has been a dramatic increase in the amount of anger and violence that's taking place in America. And what Texas is doing, in a big-time way, we're working to address that anger and violence by going to its root cause, which is addressing the mental health crisis behind it," Abbott said.
Rep. Henry Cuellar, one of the most conservative Democrats in the House, sounded a similar note on the same program.
"It's one of those things that we need to look at. And again, it's making sure we get at the root problems. And I do agree with the governor: Mental health is one of the things," Cuellar said.
Mass shootings "happen across the nation, and we have to get to the bottom of this," he said.
Republican Rep. Keith Self, meanwhile, rebuked gun reform supporters who have lambasted the offering of "thoughts and prayers" that often follow such shootings.
"Those are people that don't believe in an almighty God who is absolutely in control of our lives. I'm a Christian, I believe that he is. We have people, though, with mental health [problems] that we're not taking care of," Self said on CNN on Saturday.
"Prayer is powerful in the lives of those people that are devastated. And I know people want to make this political," Self said. "But prayers are important, and they are powerful in the families who are devastated right now."
In a statement, President Joe Biden again called for a ban on assault-style weapons and other legislative changes.
"Such an attack is too shocking to be so familiar. And yet, American communities have suffered roughly 200 mass shootings already this year, according to leading counts," Biden said. "More than 14,000 of our fellow citizens have lost their lives, credible estimates show. The leading cause of death for American kids is gun violence."
"We need more action, faster to save lives," the president said, urging "a bill banning assault weapons and high-capacity magazines. Enacting universal background checks. Requiring safe storage. Ending immunity for gun manufacturers. I will sign it immediately."
Last year, in the wake of the Uvalde, Texas, school massacre, Congress broke a decades-long stalemate to pass a bipartisan bill that strengthened background checks, bolstered mental health support and made other changes.
But Democratic priorities like banning assault weapons have little chance of making it to Biden's desk, as many Republicans argue such restrictions are ineffective and unconstitutional.
Copyright © 2023, ABC Audio. All rights reserved.