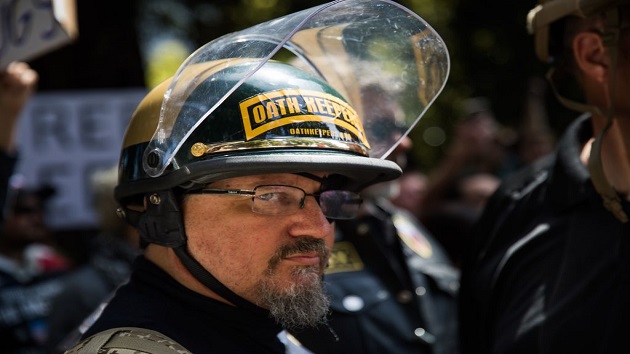 (NEW YORK) — The Justice Department is asking a federal judge to sentence Oath Keepers founder Stewart Rhodes to 25 years in prison following his conviction along with other members of the anti-government militia group on charges of seditious conspiracy and other felonies stemming from their involvement in the Jan. 6 attack on the U.S. Capitol.
Prosecutors set forth their requested sentences for Rhodes and eight other Oath Keepers convicted of a range of offenses following two separate trials in November of last year and in January. Six of the nine total defendants were convicted on the key seditious conspiracy charge while three others — Jessica Watkins, Thomas Caldwell and Kenneth Harrelson — were found not guilty of that charge but were convicted of other serious felonies.
"These defendants were prepared to fight. Not for their country, but against it," prosecutors said Friday evening leading off their 183-page sentencing request. "In their own words, they were "willing to die" in a "guerilla war" to achieve their goal of halting the transfer of power after the 2020 Presidential Election."
The recommendation for Rhodes is the longest thus far for any person charged in connection with the Capitol attack, reflecting what prosecutors see as his role in a key organizing figure for members of the far-right militia — even as Rhodes was never alleged to have entered the Capitol building itself on Jan. 6.
It also comes the same day that DC district Judge Amit Mehta, who will sentence Rhodes and the other Oath Keepers members, handed down the harshest sentence yet for a Capitol rioter with a lengthy criminal history accused of repeated assaults against police during the Jan. 6 attack. Mehta sentenced Pennsylvania man Peter Schwartz to more than 14 years in prison Friday afternoon, which was 10 years below what prosecutors had sought.
In the sentencing recommendation for Rhodes and the eight other Oath Keepers defendants, the government is seeking to use a terrorism enhancement in urging the judge to accept an upward departure from the typical sentencing guidelines.
As there is no federal charge specifically for domestic terrorism — prosecutors early on in their investigation into the Capitol attack suggested they could use the terrorism enhancement against convicted rioters to seek harsher penalties for the most egregious conduct and more clearly label their actions attacking the U.S. government.
The DOJ has previously sought to use this enhancement for the first Jan. 6 rioter convicted at trial, Guy Reffitt, but a judge rejected it.
"An upward departure… is warranted for all nine defendants, whose relevant conduct was "calculated to influence or affect the conduct of government by intimidation or coercion, or to retaliate against government conduct," prosecutors say in the filing. "All nine defendants were active participants in a sweeping conspiracy to oppose by force the lawful transfer of presidential power."
Copyright © 2023, ABC Audio. All rights reserved.