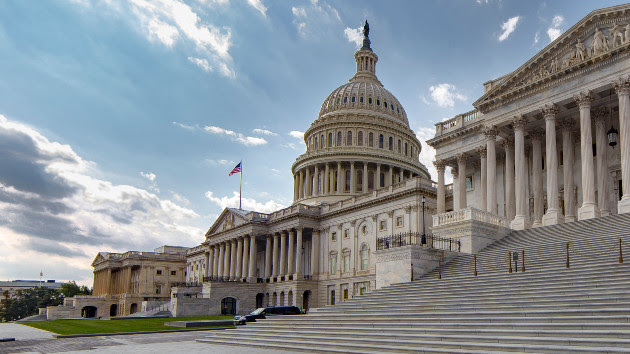 (WASHINGTON) — A new piece of legislation being introduced this week would make sharing non-consensual AI-generated pornography illegal in the United States, and open up new legal avenues for those impacted.
"This bill aims to make sure there are both criminal penalties, as well as civil liability for anyone who posts, without someone's consent, images of them appearing to be involved in pornography," explained Congressman Joe Morelle who authored the Preventing Deepfakes of Intimate Images Act.
The rise of AI-generated content has exploded in recent years due to the accessibility and ease of use of tools that allow users to create hyper-realistic synthetic media.
Although a fabricated image of Pope Francis in a puffer jacket grabbed international headlines earlier this year, there's a dark underbelly that doesn't always make it into the public sphere — a large percentage of deepfakes are pornographic, non-consensual, and involve primarily women.
In 2019, synthetic media expert Henry Ajder and his colleagues set out to map out the state of deepfakes online. They found that 96% of the 14,000 deepfake videos found online were porn.
"If we fast forward to today, that number is infinitesimally small compared to the landscape as it is now," Ajder told ABC News. "And that's because these tools have become so much more accessible, awareness of these technologies has really grown. And so, I think we're in a position now where we're talking probably millions of women as victims."
Deepfake pornography is often referred to as described by advocates as image-based sexual abuse — a term that also includes the creation and sharing of non-fabricated intimate images.
A few years back, a user needed to have a certain level of technical skills to create AI-generated content, but now it's just a matter of downloading an app or clicking a few buttons.
Now experts say there's an entire commercial industry that thrives on creating and sharing digitally created content of sexual abuse, including websites that have hundreds of thousands of paying members.
Dr. Mary Anne Franks, a law professor and president of the Cyber Civil Rights Initiative, a non-profit organization dedicated to combatting online abuse, explained that it's hard to undo the harm once this content, real or fabricated, is shared publicly.
"It is not just the psychological harm, the intense depression, the anxiety, but also the economic consequences, because it can lead to further harassment online, online and offline harassment, requiring a lot of victims to invest in security systems or change the way that they go to work or go to school," she added.
"My face has been digitally plastered countless times over other people's naked bodies to create sex content I never consented to," revealed Gibi, a popular YouTuber, in a video she posted in 2022.
"Porn of myself, I never created, has been viewed, distributed, and sold. It has been used to threaten and humiliate me in an attempt to grab power from myself. And my reality is not unique," she added.
In a tearful video, a Twitch streamer who goes by QT Cinderella describes finding out how she became the subject of digitally created images of abuse and the toll it took on her.
"It should not be part of my job to have to pay money to have this stuff taken down, it should not be something that is found on the internet," she said earlier this year.
Experts like Dr. Franks agree that the burden of seeking justice should not fall on the victim, but more should be done to deter perpetrators.
"Our emphasis at the Cyber Civil Rights Initiative has always been on trying to deter this behavior before it starts," Franks told ABC News."And that's really hard to do unless you have a clear criminal prohibition that makes people worried that if they do this, they would face serious penalties."
That's exactly what Congressman Morelle hopes to achieve with his new legislation.
"This [bill] will signify to people who are posting this material, that it's not going to be a free ride anymore, they're not going to be able to be shielded from prosecution potentially. And they're not going to be shielded from facing lawsuits," he added.
Copyright © 2023, ABC Audio. All rights reserved.