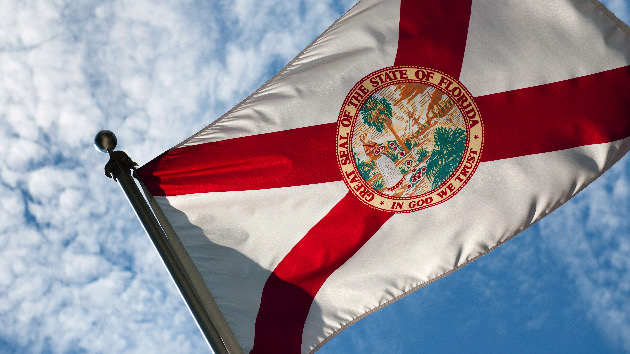 (NEW YORK) — Florida mayors across the state are speaking out in support of LGBTQ rights in light of several bills targeting the community that have been passed by the state legislature and are heading to the desk of Gov. Ron DeSantis.
At least eight mayors from Orlando, Miami Beach, Tampa, Tallahassee and more have signed the pledge in support of the LGBTQ advocacy organization GLSEN and its Rise Up campaign, according to the group.
Several local leaders issued city proclamations, which promised "safe learning environments that include and affirm all children, including LGBTQ+ students," one proclamation read.
"I was elected to be mayor for every resident of Gainesville, and it is important to me that all our neighbors, particularly the youngest and most vulnerable, feel welcome and safe in our community," Gainesville Mayor Harvey Ward told ABC News in a statement.
He continued, "I support the well-being and healthy development of every person in our community through the guarantee of basic human rights."
The Rise Up campaign also advocates for LGBTQ affirming books, resources and curriculum, as well as advocacy against anti-LGBTQ bills and rhetoric.
"In Fort Lauderdale, you can be who you are without fear of reproach," said Fort Lauderdale Mayor Dean Trantalis in a statement. "The city boasts a stalwart human rights ordinance that bans discrimination based on sexual orientation and gender identity in areas of employment, housing, and public accommodations."
Trantalis continued, "Discrimination of any kind, particularly towards our LGBTQ+ children, has no place in any part of our society. Greater Fort Lauderdale boasts one of highest concentrations of same-sex households in the nation, and we welcome in an average of over 1.3 million LGBTQ+ visitors each year."
Florida has been been leading the recent wave of legislation and policies targeting the LGBTQ community.
The bills passed by the Florida legislature Wednesday include a bathroom bill that bars transgender people from using restrooms or changing facilities that do not align with their gender assigned at birth.
Another bill expands the Parental Rights in Education law, which has been dubbed the "Don't Say Gay" law by critics. This bill would restrict classroom instruction on gender identity or sexual orientation from prekindergarten through grade 12. However, the Florida Board of Education had already voted to expand the restriction from kindergarten through 12th grade.
The bill says school employees and students "may not be required" to refer to "another person using that person's preferred personal title or pronouns" if they "do not correspond to that person's sex" as assigned at birth, and would bar school employees from using pronouns or names that "do not correspond to his or her sex," according to the bill.
Teachers would also not be allowed to ask students for their preferred pronouns or name.
The bill encourages education on "abstinence from sexual activity" and "the benefits of monogamous heterosexual marriage."
The legislation also states that parents may object to school or library books, which must then "be removed within 5 school days of receipt of the objection and remain unavailable to students of that school until the objection is resolved."
Critics slammed the legislation, saying that the bill not only removes and silences LGBTQ identities from classrooms and school programs, but also that the restrictions are a form of censorship against certain perspectives.
"Why can't we teach our kids that these things exist in the world? What are you protecting them from?" said state Sen. Tina Polsky on the Senate floor. "If you're in public school, you need to be with all the public. And this is a fact of life and you can't change it by telling people what pronouns they can use."
Those in support of the legislation say it gives some parents more of a say in what children learn at school and claim children will have more space to figure out "who they are," Republican state Sen. Erin Grall says.
"We are depriving children of the ability to figure out who they are when we push an agenda … down onto children," Grall said on the Senate floor.
Florida's largest LGBTQ civil rights group Equality Florida has issued a travel advisory for the state, backed by the Florida chapters of the NAACP and the Florida Immigrant Coalition.
A spokesperson for DeSantis' office called the move a "stunt" at the time.
"We aren't going to waste our time worrying about political stunts. We will continue doing what is right for Floridians," the statement read.
Copyright © 2023, ABC Audio. All rights reserved.