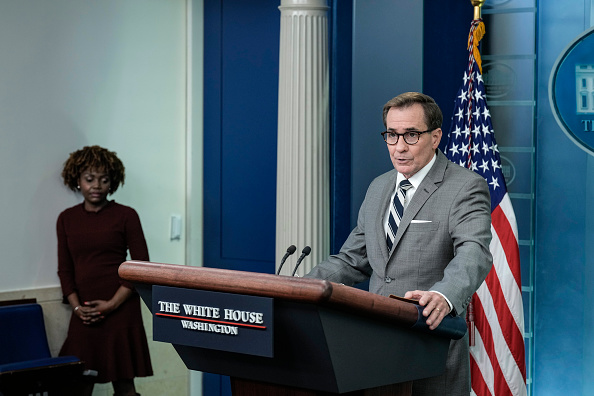 (WASHINGTON) — The Biden administration on Thursday adamantly denied U.S. involvement in an alleged drone attack on the Kremlin after a spokesman for Russian President Vladimir Putin accused the U.S. of directing Ukraine in carrying it out.
While the United States may never "fully understand" what occurred in Russia on Wednesday, the U.S. "was not involved in this incident in any way," according to National Security Council spokesman John Kirby.
"One thing I can tell you for certain is that the United States was not involved in this incident in any way contrary to Mr. Peskov's lies," he continued, referring to Putin's spokesman, Dmitry Peskov. "And that's what they are, just lies."
Kirby, taking another shot at Peskov from the White House podium, called his accusations a "blatant, bold lie."
Earlier Thursday, Russia accused the U.S. of helping Ukraine orchestrate what Moscow claimed was an assassination attempt against Putin.
"We understand well that the decision about such terror attacks are taken not in Kyiv, but in Washington. Often targets are determined not in Kyiv, but in Washington," Peskov told reporters.
The Kremlin provided no evidence to back up its claims.
State media released videos Wednesday appearing to show two drones exploding above the Senate Palace — an alleged attack that Ukrainian President Volodymyr Zelenskyy said "allows Russia to try to justify its escalating terrorist tactics." Putin was not in the building at the time, the Kremlin said.
Asked whether the U.S. had authenticated any of the videos of the alleged drone attack or confirmed such an attack took place, Kirby said no.
"We're still trying to gather information about what happened and we just don't have conclusive evidence one way or the other," Kirby told reporters at Thursday's daily briefing, adding he was "not going to speculate."
Director of National Intelligence Avril Haines similarly said U.S. intelligence agencies "don't have information that would allow us to provide an independent assessment on this."
Haines made the remark during a Senate Armed Services Committee hearing on worldwide threats on Thursday.
Kirby told reporters he didn't know whether the alleged drone attack was a false flag operation, but he did say it fit Putin's narrative that Russia is under existential threat from the West.
"Whether he's going to use this as some sort of pretext is up to him," Kirby said. "But just in the last 24 hours, he's bombing shoppers at a supermarket. So, the violence continues one way or the other."
During the same Senate hearing at which Haines testified, Lt. Gen. Scott Berrier, the director of the Defense Intelligence Agency, suggested amid questioning from GOP Sen. Tom Cotton that misinformation could be at play.
Cotton questioned the capabilities of the drones used, asking, "These videos I've seen, they do not appear to be the kind of the size of weapons that can do significant damage to the Kremlin. Is that correct?"
"That is correct," Berrier replied.
Cotton also implied the drones would have had to be controlled by line of sight locally based on their appearance, which Berrier agreed with.
Haines confirmed that Putin does not spend much time at the Senate Palace, which Cotton noted is "not like the White House" in the sense that it is not the Russian leader's primary residence.
Russia has suffered over 100,000 casualties, including over 20,000 killed in action, since it stepped up its winter offensive in December, a representative for the NSC told ABC News. Ukraine has lost roughly the same number, according to Pentagon documents that were leaked last month.
-ABC News' Nathan Luna, Justin Gomez and Patrick Reevell contributed to this report.
Copyright © 2023, ABC Audio. All rights reserved.