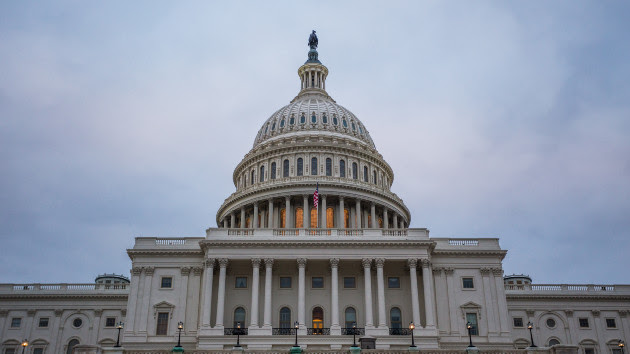 (WASHINGTON) — The already fierce debate over the debt ceiling turned more contentious this week as Republicans and Democrats feud over the politically explosive issue of veterans' health care and other benefits.
Democrats can be expected to hit their claims hard when the Senate Budget Committee holds a hearing Thursday on the potential impact of House Republicans' 2024 budget.
President Joe Biden and his congressional allies are accusing House Republicans of voting to cut funding for veterans' services when they narrowly passed the budget proposal last week.
Republicans have shot back that Democrats are "shamelessly lying."
The bitter back-and-forth comes as lawmakers face a fast-approaching June deadline to reach a solution on the debt ceiling or risk an unprecedented default that would wreak havoc on the economy.
House Speaker Kevin McCarthy and Biden are set to meet next week for their first conversation on the issue in months. Biden's insisted the debt ceiling be raised without conditions on spending while Republicans are demanding steep cuts in exchange for a one-year debt ceiling increase.
The House GOP's Limit, Save, Grow Act would revert government spending to pre-inflationary, fiscal year 2022 levels, which would amount to a cut of 22% across agencies, and limit spending increases to 1% per year.
The bill, however, doesn't specify the exact agencies or programs that would be on the chopping block.
"The budget itself is silent on veterans and the Veteran Affairs budget," Carrie Farmer, the co-director of the RAND Epstein Family Veterans Policy Research Institute, told ABC News. "So, it doesn't specifically cut the VA budget, but it also doesn't specifically protect the VA budget."
The lack of a carve-out for benefits has been a point of concern for major veterans' groups. More than 20 organizations wrote a letter to Congress last week protesting the budget and urging lawmakers to add in such protections.
"If the proposed budget reductions were applied across-the-board, the impacts would significantly affect the delivery of care and benefits to veterans," the groups wrote, citing figures from Veterans Affairs that the budget could result in 81,000 jobs cut and 30 million fewer outpatient visits.
It's also opened Republicans up to attacks from Democrats, with Biden trolling the party on Twitter.
I hear House Republicans out on TV saying they would never vote to cut veterans' benefits.

In case there's any confusion, I made a little chart that could help them out. pic.twitter.com/SVvamK3KC2

— President Biden (@POTUS) May 2, 2023
Republicans have pushed back, stating congressional appropriators will take care to protect veterans and defense funding as they determine what exactly will be cut.
"Republicans have always prioritized veterans in our budgets to ensure the men and women who have served have access to the care, benefits, and services they have earned," House GOP leaders wrote in a press release.
"Joe Biden and the Democrats are yet again shamelessly lying to the American people," Rep. Elise Stefanik, the No. 3 House Republican, tweeted on Monday.
Marc Goldwein, the senior policy director of the Committee for a Responsible Federal Budget, said it's "misleading" for the Biden administration to connect the budget as is to a specific list of policies such as VA job cuts or reduced telehealth infrastructure.
But he noted critics have a "very good point" that the overall discretionary spending caps sought by Republicans could have an impact on veterans.
"It would be very hard to meet those caps without touching veterans or defense," he told ABC News. "It would mean very deep cuts for everything else."
Farmer echoed that analysis, stating it would be "challenging" but perhaps not impossible to meet their proposed spending cuts without touching discretionary VA funding.
"Like anything else, the devil's in the details of how it is implemented," she said.
Copyright © 2023, ABC Audio. All rights reserved.