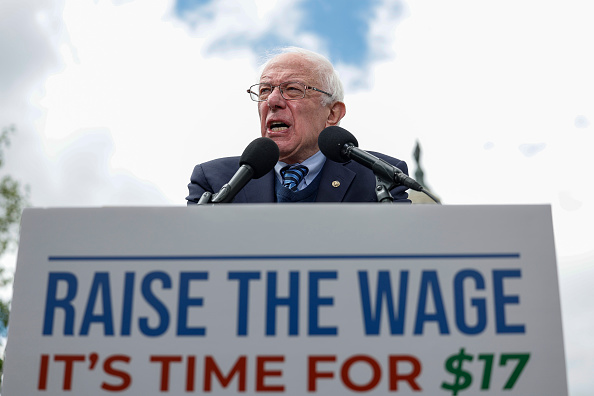 (WASHINGTON) — A Senate committee will soon take up a bill that would more than double the minimum wage — though the legislation's chances of passage are slim.
Sen. Bernie Sanders, an independent from Vermont who chairs the Senate Committee on Health, Education, Labor and Pensions, said a $17-an-hour minimum wage is needed to help workers keep pace with the rising cost of living across the United States.
"I am delighted to announce this morning that on June 14, the Senate HELP Committee will be marking up a bill to raise the minimum wage to $17 an hour over a five-year period," Sanders announced Thursday.
The senator's suggestion — a $2 increase from his 2021 proposal — is designed to keep pace with inflation, Sanders said in remarks decrying congressional inaction.
"The last minimum wage bill passed by Congress was in 2008. You think it's time to raise it? I do [and] most Americans do, so we're gonna do our best to get this off to the floor as soon as we can," he said.
Against the backdrop of workers holding signs reading "Respect Us. Protect Us. Pay Us" — a message the workers later chanted at the end of the presser — Sanders said it would be impossible to survive on the current minimum wage of $7.25-an-hour.
"Nobody in this country can survive on $7.25. And maybe some of my colleagues in Congress might want to live for a month on seven-and-a-quarter and see what that's like," Sanders said as the workers behind him audibly agreed.
When asked about the bill's prospects in a chamber narrowly controlled by Democrats, Sanders warned those who opposed the "popular" idea would face political consequences.
"We're focusing on making sure that we have the votes in the Senate and the House to raise the minimum wage," Sanders told reporters. "And as you've heard today, this is a popular issue. … I would hope every member of Congress understands that there will be political consequences," he added.
Sanders was joined by workers, union leaders and an economist during Thursday's press conference.
"Haven't wages for low-wage workers naturally grown in the tight labor markets of the pandemic recovery?" asked Heidi Shierholz, the former chief economist for the Department of Labor.
"Yes, they have," she said. "But so has the cost of living."
Workers who joined Sanders on Thursday claimed that the proposed increase could have an outsized impact on the pockets of everyday Americans.
"Making $17 is finally taking some of the pressure off," Tara Thompson, who has worked low-wage jobs her whole life and recently began receiving $17 an hour, said. "I still struggle to support my family, but I'm finally able to pay my bills on time."
In 2021, eight members of the Senate Democratic Caucus joined all their Republican counterparts in voting down Sanders' proposal to raise the minimum hourly wage to $15 per hour. Sanders had also introduced "The Raise the Wage Act" in the previous three Congresses, with all other iterations failing to make it out of committee.
Manchin argued at the time that many localities had already adopted higher minimum wage requirements than the one set by the federal government.
"Bernie has chosen $15 and, you know what, an awful lot of areas and states have moved to $15," Manchin said on ABC News' "This Week" on March 7, 2021, when he pushed instead for a more modest $11-an-hour federal minimum wage that would increase each year with inflation.
Sen. Mark Warner, D-Va., said that corporations might be tempted to "offshore" work if the minimum wage were too high, and Senate Minority Leader Mitch McConnell, R-Ky., accused Democrats of "pushing economic policies that would drag down our recovery, like the House votes for a one-size-fits-all minimum wage policy that would kill 1.4 million jobs."
A $15 minimum wage hike could cost 1.4 million jobs while also lifting 900,000 Americans out of poverty, according to a Congressional Budget Office report from 2021.
Copyright © 2023, ABC Audio. All rights reserved.