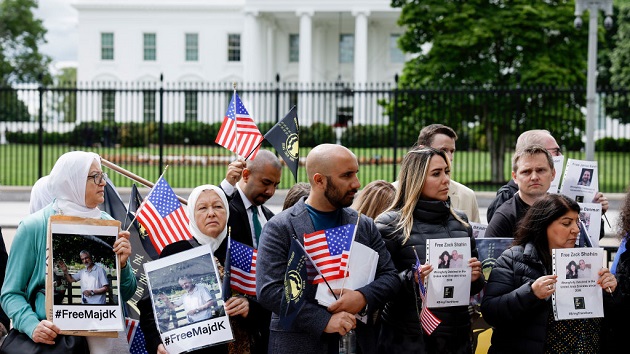 (WASHINGTON) — Keep pushing.
That was the message on Wednesday from Paula Reed, mom of Marine veteran Trevor Reed, who was freed in a 2022 prisoner swap after some three years behind bars in Russia on trumped up charges.
"That's your loved one and they're just wasting their life away. And, to me, that was the hardest thing to deal with," Paula Reed said at an event at Lafayette Square in Washington, which was organized by the Bring Our Families Home. "Even though Trevor's home, we're going to continue in every way we can to help others."
For 985 days, Trevor Reed was held in a series of Russian prisons, thrown in isolation cells as small as a closet for 23 hours a day, placed in a psychiatric ward and sent to a forced labor camp he described as looking and feeling like something "out of medieval times."
The U.S. classified Trevor Reed as "wrongfully detained," a designation which applies to an "individual whose detention the Department of State determines to be wrongful based on certain discretionary criteria," according to a State Department resource guide.
In those cases, the government is much more likely to act on behalf of citizens.
Bring Our Families Home says it works to "bring attention to the individuals being wrongfully detained overseas" while urging the White House to take "immediate decisive action."
On Wednesday, the group gathered to address reporters in Lafayette Square along with relatives of Americans who are detained in China, Iran and Venezuela. They called on President Joe Biden to do more — and more quickly — for citizens held abroad, even those not classified as "wrongfully detained."
"Let us stand together with hope and faith," said hostage advocate Diane Foley.
The event followed a candlelight vigil on Tuesday to remember and advocate for people held or wrongfully detained overseas. The vigil was in front of a Bring Our Families Home mural that was unveiled last July, depicting 18 such Americans.
Since then, nine of those have been released.
At the White House Correspondents' Association dinner on Saturday, Biden used some of his remarks to call out the Americans held overseas, including Evan Gershkovich, Austin Tice and Paul Whelan. He promised that his administration has been seeking their freedom.
"Evan and Austin should be released immediately, along with every other American held hostage or wrongfully detained abroad," Biden said then. "I want them and their families to know Jill and I understand. We see them. They are not forgotten. And I promise you I am working like hell to get them home."
Among those who rallied outside the White House on Wednesday were relatives of Zack Shahin, who has been detained in the United Arab Emirates since 2008.
Shahin's sister-in-law, Aida Dagher, claims to have contacted the State Department on multiple occasions but has not received any correspondence on Shahin's medical status. She said, however, that the State Department has told her they are working on his case.
"We contact the State Department over and over. Are they deaf? I don't know," Dagher said. (A State Department spokesperson did not immediately respond to a request for comment.)
While Shahin's family is thankful for the media attention and the support of advocacy groups like Bring Our Families Home, they believe more can be done for him and say he is in waning health.
"They are leaving him to die. We don't want letters of sympathy when he dies. We don't want him in a box," Dagher said.
Jose Pereira said at Wednesday's event that he was held in a Venezuelan "dungeon" for more than five years and was freed in October. Pereira was speaking on behalf of family members who he said felt immense guilt while he was being held; he said their lives became a "total nightmare."
"My point here is: All the government, all the senators and all the congressmen need to [put] aside the politics. You have to use all the tools available to bring these people back home," Pereira said. "All these people deserve it."
ABC News' James Hill, Bill Hutchinson and Patrick Reevell contributed to this report.
Copyright © 2023, ABC Audio. All rights reserved.